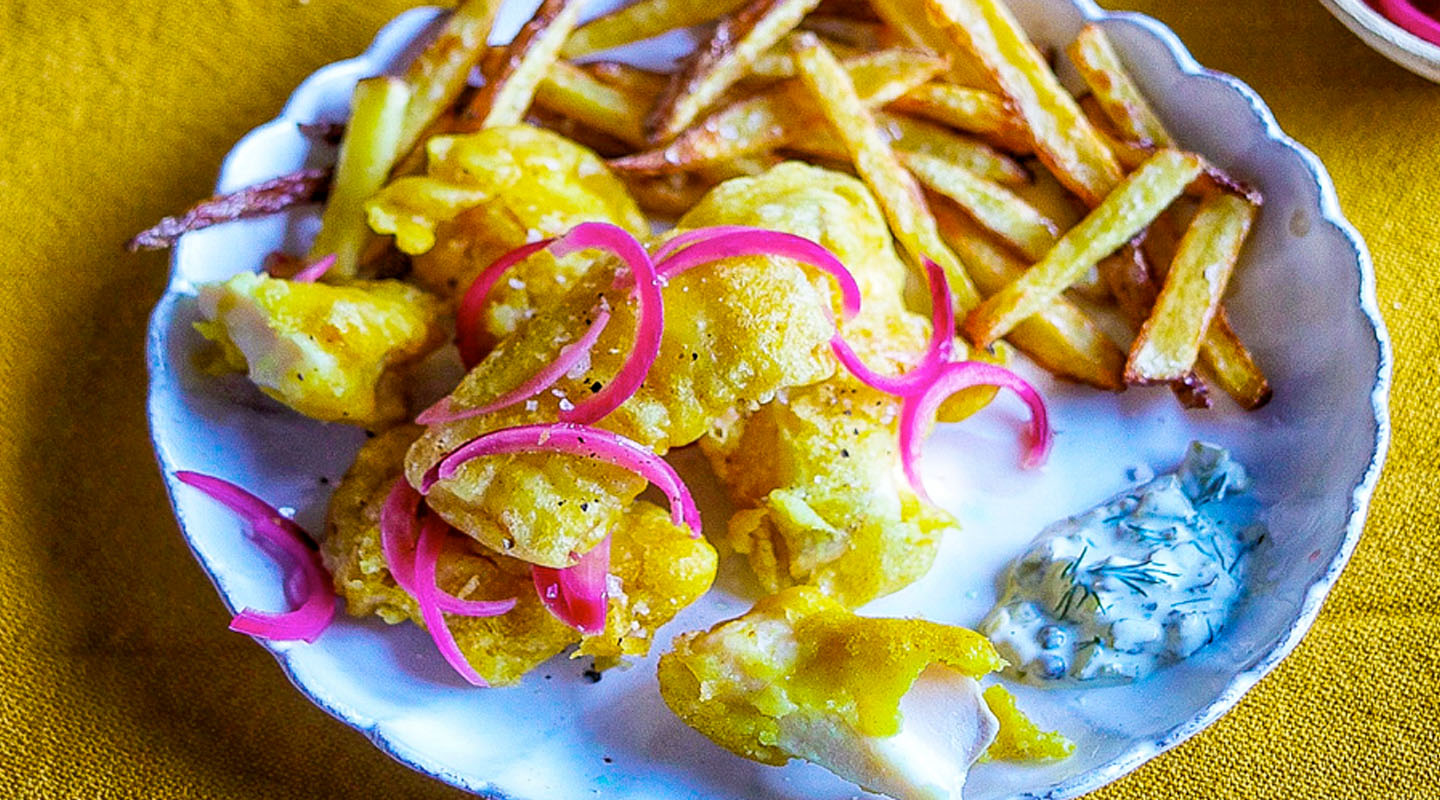 Beer battered hake goujons, tartare sauce & pickled pink onions
Ingredients
For the pink pickled onions
250ml Sarson's malt vinegar
100ml water
50g sugar
2 Tsp sea salt
2 bay leaves
1 stick of cinnamon
5 black peppercorns
2 red onions, sliced
For the fish
220g skinless hake, haddock or cod fillets, cut into strips
100g plain flour
50g cornflour
Pinch of salt
Grinding of white pepper
½ tsp of smoked paprika
Tsp ground turmeric
200ml cold pale ale or lager
2 red-skinned or maris piper potatoes, skin left on, cut into chips
Sarson's malt vinegar, for splashing
1 litre vegetable oil, for frying
For the tartare sauce
100g mayonnaise
20g natural yoghurt
1 tsp Dijon mustard
100g sweet pickled cornichons, finely chopped
15g capers, finely chopped
2 tbsp dill, chopped
Squeeze of lemon juice
Salt and freshly ground white pepper
Method
First, make your pickled onions. In a non-reactive pan, combine the Sarson's, water, sugar, salt, bay, cinnamon and peppercorns and bring up to the boil over medium heat. Place the sliced onions in a bowl and pour the pickle liquor over, then leave to steep for at least 30 minutes.
To make the tartare sauce, combine all the ingredients in a bowl and stir well to combine. Season to taste. Cut the fish into eight goujons, about 6-8cm long by 2cm wide and season with a little sea salt. In a bowl, combine the flours, salt, pepper and spices.
Heat oven to 180 degrees, with fan. Pour the oil into a heavy-bottomed saucepan and bring up to 130 degrees over medium heat. Carefully lower the potato into the hot oil and fry for 18-20 minutes, until golden and crisp. Scoop them out of the oil using a slotted spoon and drain on a kitchen towel, then spread them out on a baking sheet. Keep the oil on the heat.
Add the beer to the flours and whisk to form a batter, it should be about the consistency of custard. Don't worry if there are some lumps, this will make for a crispy batter. Working in batches, dip the fish pieces into the batter and then lower them into the hot oil, frying for 3-5 minutes, until golden. Using a slotted spoon, remove them from the oil and place them on a wire rack with a kitchen towel underneath to absorb any excess oil. Repeat until all of the fish is cooked. Flash the chips through the oven to warm them up then splash them with Sarson's and season with sea salt.
Serve the fish with the chips, a bowl of tartare sauce and the pickled onions.