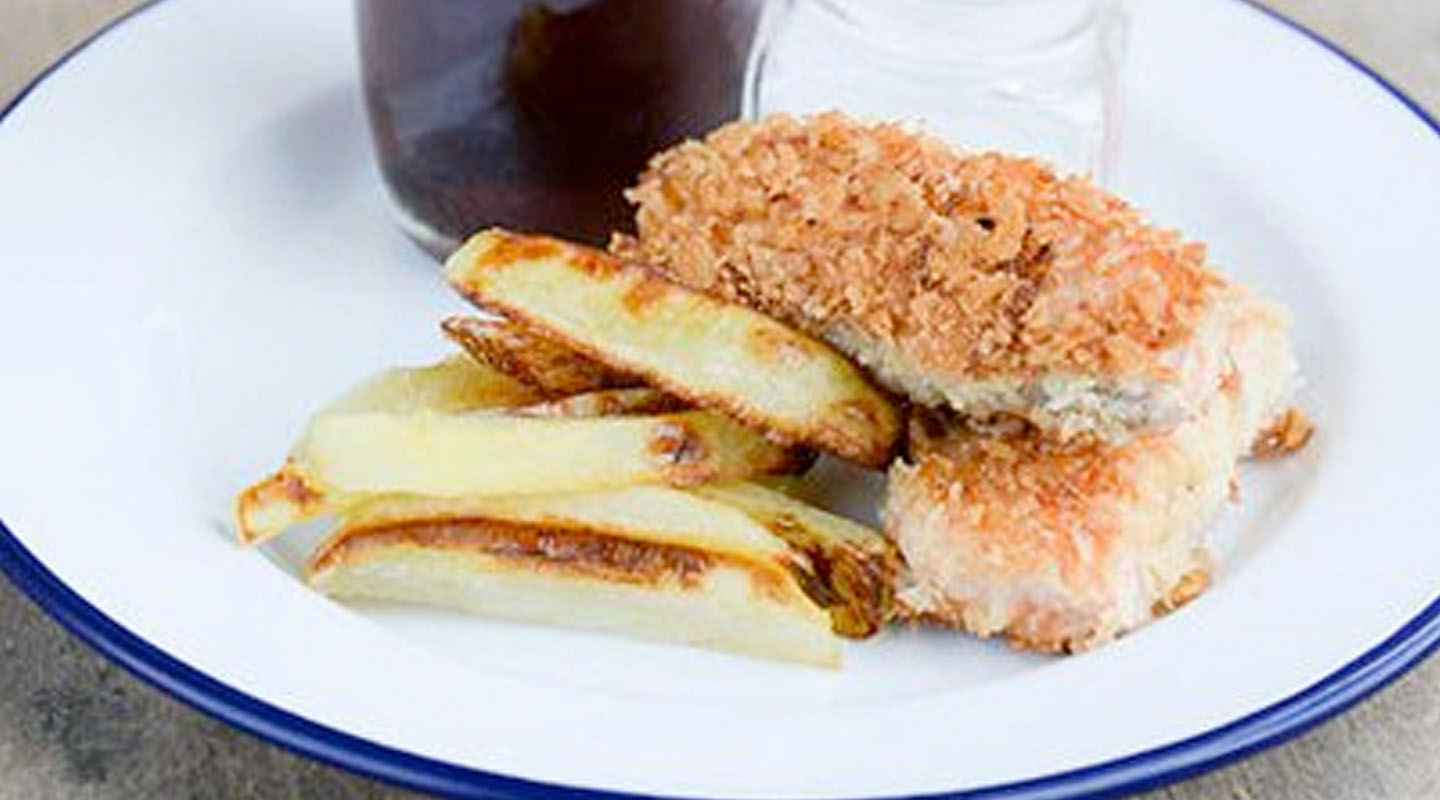 Ingredients
Vegetable oil
4 large Desiree Potatoes, peeled
2-3 salmon fillets, sliced into chunks
100g Panko (Japanese) breadcrumbs, or Matzo meal
Zest of one lemon
1 egg, beaten
3-4 sun-dried tomatoes, whizzed or finely chopped
4 large Desiree Potatoes
Sarson's Malt Vinegar
Method
Preheat the oven to 220C/200C fan/gas 7.
Bring a large pan of salted water to the boil. Peel the potatoes, slice into four lengthways, and then slice each piece into chips, roughly the same size. Tip the chips into the boiling water and cook for five minutes. Drain well. Line a baking tray with tin foil, sprinkle over a little oil and spread the par-boiled chips onto the tin. Use your hands to coat the chips well in the oil. Bake the chips in the oven for 20 minutes, then turn them over using a large fish slice and carry on baking for a further 20 minutes until golden and crispy.
Ten minutes or so before the end, start to prepare the fish. Tip the breadcrumbs onto a plate and add the grated lemon zest. Add the sun-dried tomatoes and mix everything together with a fork. Dip each piece of salmon into the egg first and then into the breadcrumbs, using your fingers to pat the breadcrumbs evenly over the salmon pieces.
Heat 2 tablespoons vegetable oil in a large frying pan, and then add the crumbed salmon slices. Cook on each side for 2-3 minutes until golden and crispy all over and cooked on the inside.
Take the chips out of the oven, sprinkle over some Sarson's vinegar and serve immediately alongside the cooked salmon.