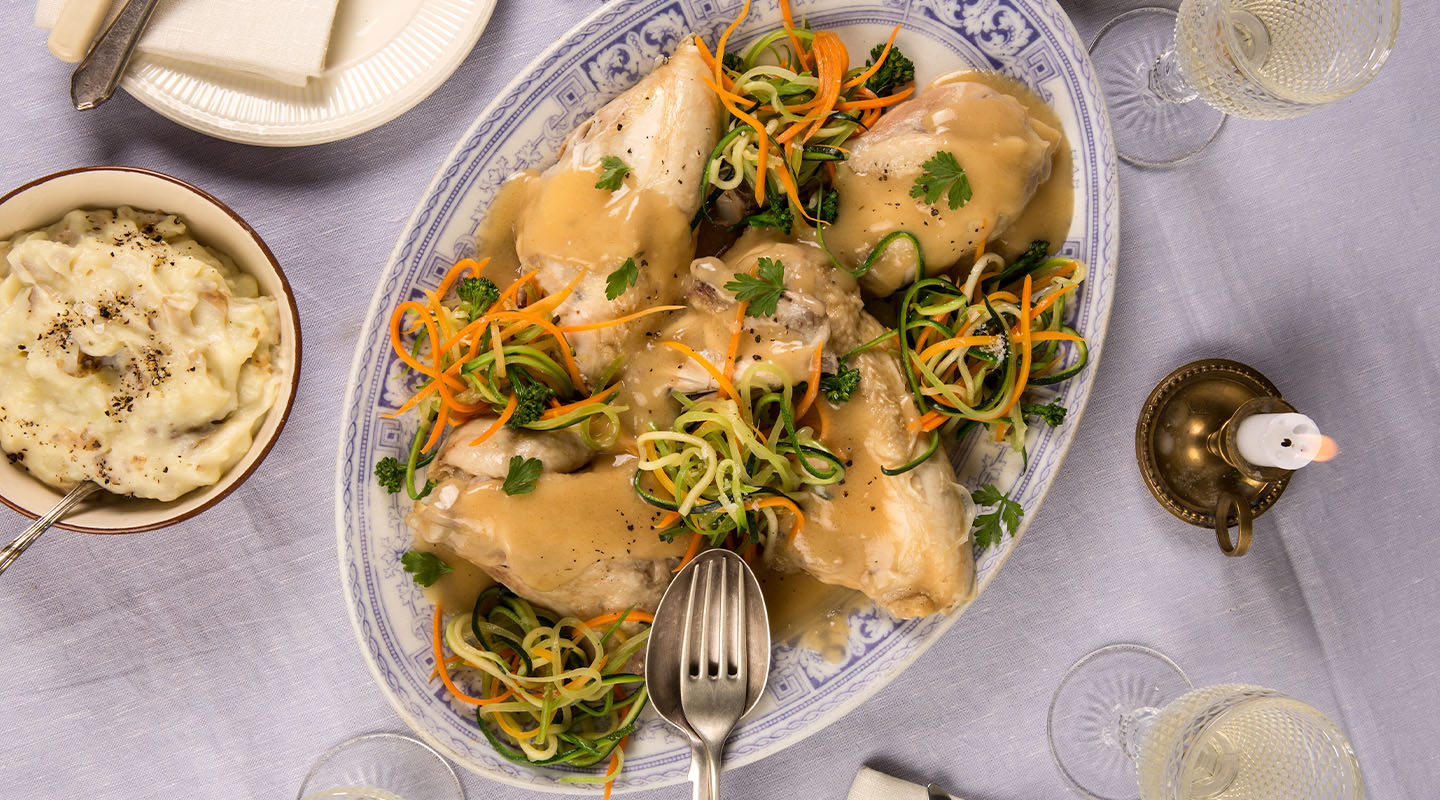 Slow Cooked Chicken Pot Roast Recipe
Ingredients
1 organic, free-range chicken, approx 1.5kg, including giblets
2 carrots, peeled and diced
2 leeks, white parts, sliced
1 celery stick, sliced
1 onion, diced
3 garlic cloves
1 bouquet garni (bay leaf, small bunch of thyme and small bunch of parsley tied together)
175ml dry white wine
Salt and pepper, to season
1tps cayenne pepper
50ml Sarson's Malt Vinegar
30g plain flour
30g butter, plus 20g butter, cubed and chilled
Parsley, finely chopped for garnish
Vegetables to serve
3 carrots, peeled and julienned
3 celery sticks, peeled and julienned
2 courgettes, peeled and julienned
30g butter
Salt and pepper
Method
Melt 30g of butter in a heavy duty stock pot over medium heat. Add the chicken giblets and brown off.
Add the carrots, leek, celery, onion, garlic and bouquet garni and stir through for about 8-10 minutes, until everything starts to soften. Place the chicken on top of the vegetables.
Add the dry white wine, salt, pepper and cayenne pepper and cover the chicken with around 1.5 litres of water (until the whole chicken is submerged).
Bring to the boil, skimming off any scum or froth that rises to the surface and reduce to a gentle simmer. Cook for a further 45 minutes and then lift out the chicken, covering in tin foil to keep warm.
For your julienned vegetables
Melt 30g of butter in a saucepan over medium heat, then place the carrots and celery in the pot and turn them in the butter. Reduce the heat to a simmer, cover with the lid and leave to steam for 10 minutes. Add the courgettes, mixing to coat in butter and cover with the lid, to cook for another 5 minutes. The vegetables should now be soft.
Whist the vegetables are cooking, drain the remaining cooking liquor from the pot roast through a sieve into a clean saucepan and reduce by half. Add the Sarson's Malt Vinegar and reduce by another third.
In a separate pan heat 30g of butter and once melted, add the flour to make a roux. Stir through thoroughly, making sure the flour has cooked off and then add a couple of ladles of the stock. The stock will thicken immediately, keep stirring and continue until you've transferred all the stock to make a lovely, luxuriant and tangy sauce.
To serve, joint the poached chicken into pieces. Spoon a generous helping of vegetables into the centre of each plate and place two chicken pieces on top.
Warm the sauce through, adding the remaining chilled cubes of butter and stirring to add a sheen. Drizzle all over the chicken and around the plate. Finish with a sprinkle of chopped parsley.