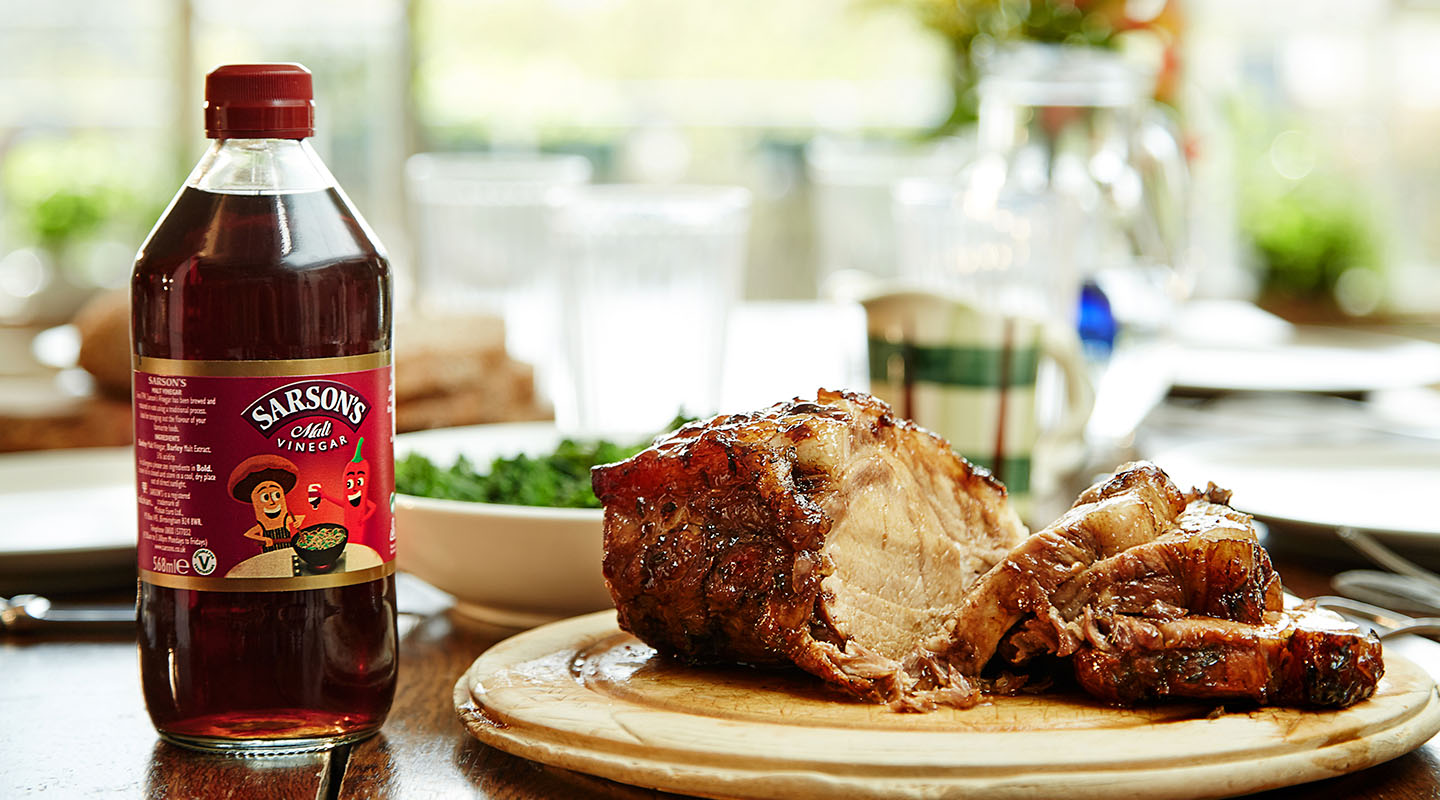 Pork Loin with Vinegar & Brown Sugar Glaze
Ingredients
1 Onion
1 Apple
Boned loin of Pork approx 2kg, skin removed and fat scored
Small bunch Thyme
2tbsp Olive oil
100ml Cider or Vegetable stock
3tbsp Sarson's Malt Vinegar
150g Dark brown sugar
2 Garlic cloves, crushed
2tbsp Soy sauce
Method
Heat the oven to 170C/150C fan. Cut the onion and apple into wedges and lay in the bottom of a roasting tin. Chop the thyme and combine in a bowl with the olive oil and salt & pepper. Rub the mixture all over the meat then lay it, fat side up, on the apples and onions.  Pour in the cider or stock then cover with foil and seal tightly. Roast the meat for 2 hours.
While the meat is cooking combine the vinegar, sugar, garlic and soy in a saucepan and bubble until the sugar has melted and the sauce is sticky. After 2 hrs remove the meat from the oven and carefully open the foil.
Turn the oven up to 200C/180C fan . Paint the vinegar glaze all over the meat and return to the oven, uncovered for 30 minutes until the glaze is rich and caramelised. Transfer the meat to a warmed carving plate and leave to rest.
Sieve the roasting juices into a saucepan and skim the fat from the top. Bring to a simmer and bubble to reduce. Taste and season.
To serve, slice the pork on a serving plate and drizzle with pan juices.