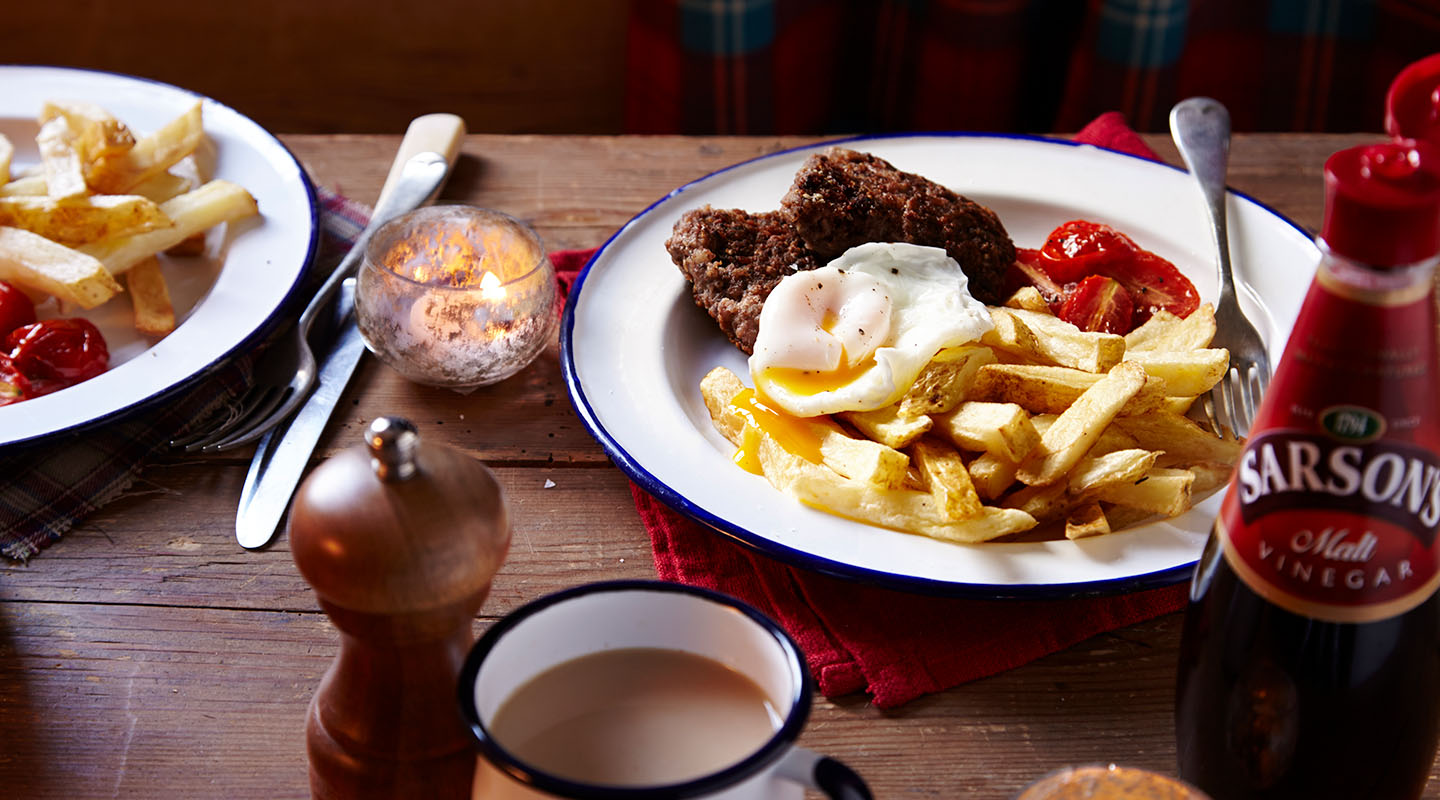 Ingredients
5 sausages
3 tbsp oats
2 tbsp allspice
Plain flour for dusting
3 cherry tomatoes, halved horizontally
2 Maris Piper potatoes, cut into thick chips and soaked in cold water
Vegetable oil, for deep fat frying
Sarson's Malt Vinegar, plus extra for dressing
2 eggs
Salt and ground black pepper
Method
Push the sausage meat out the sausage skins and into a large mixing bowl. Add the oats, allspice and season with pepper, then mix thoroughly. Dust your hands and a clean surface with flour, then divide the mixture into four balls. Place each on the floured surface and shape into thick squares. Place on a plate and chill for 20 mins.
Preheat the oven to 140C/gas 1 and a griddle pan or grill. Grill the sausage cakes for 2-3 mins on each side, until golden and cooked through, then add the tomatoes half way through the cooking time. Transfer to the oven to keep warm.
Drain and dry the chips with kitchen paper. In a large saucepan, pour the vegetable oil one-third of the way up and heat to around 180C (add a small piece of a chip and if it sizzles, the oil is ready). Fry the chips in small batches for 7-8 mins, or until golden, and then drain on a plate lined with kitchen roll.
Meanwhile, poach your eggs in your preferred way or by keeping some boiled water, with a dash of Sarson's vinegar, just below a running boil and cracking the eggs into the water. Cook for 2-3 mins, or until your liking. Serve with the tomatoes, sausage cakes and chips, dressed with Sarson's vinegar and salt.