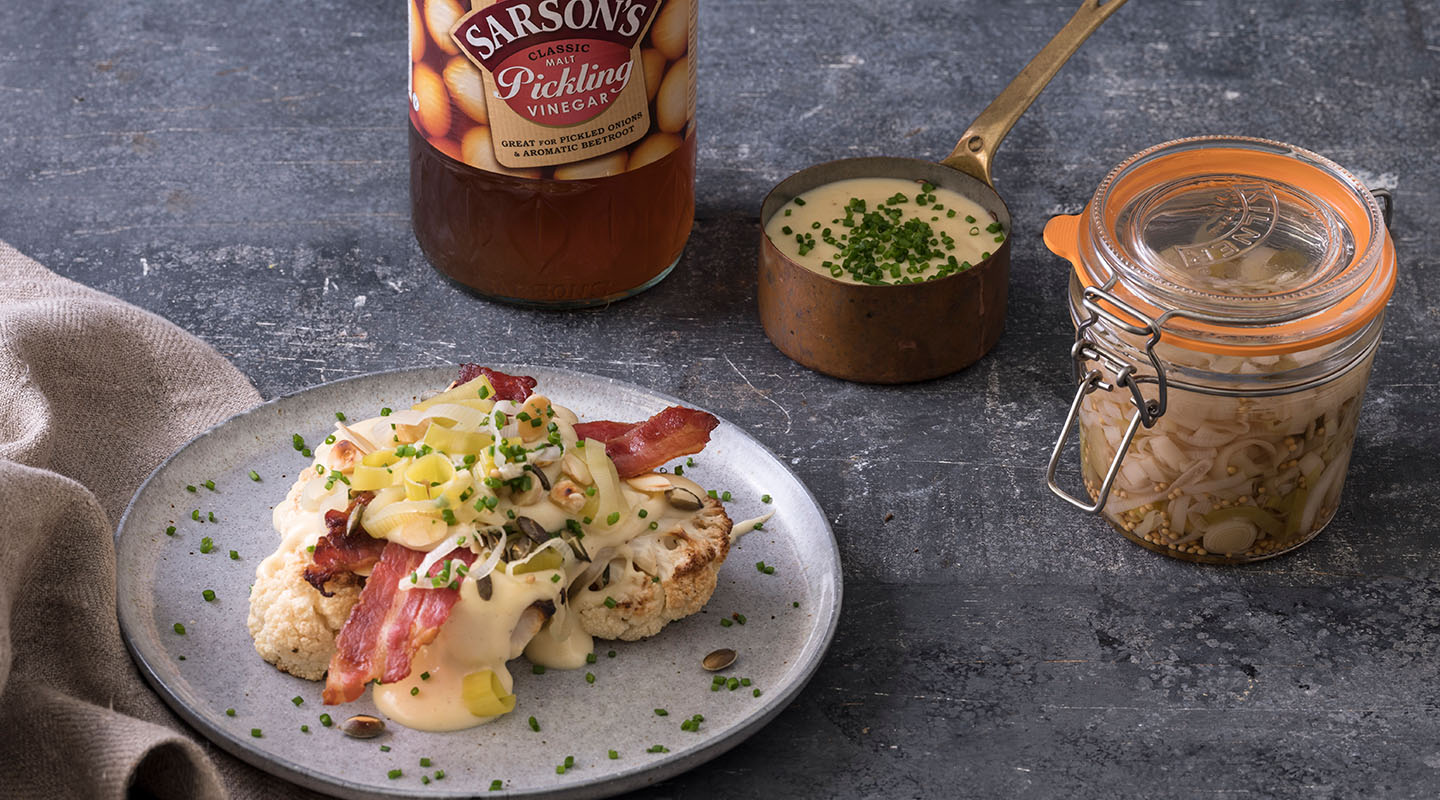 Ingredients
Pickled Leeks
1 leek
200ml of malt pickling vinegar
100ml of water
2 sprigs of thyme
2 tbsp of sugar
1 tsp salt, plus extra to salt the leeks
1 tbsp of mustard seeds
Roast Cauliflower
1 cauliflower
2 pinches of chopped thyme, chopped
1/2 tsp Dijon mustard
1 lemon, zested
50ml of olive oil
Salt
Smoked Cheddar Sauce
100g of smoked cheddar, grated
25g of butter
25g of flour
1 bay leaf
300ml of milk
1 tsp Dijon mustard
1/2 tsp nutmeg, freshly grated
2 dashes of Tabasco
Salt
To Serve
2 handfuls of pumpkin seeds
2 handfuls of blanched hazelnuts
2 handfuls of flaked almonds
4 rashers of smoked streaky bacon
1 handful of chives, finely chopped
Method
Begin by pickling the leeks. Slice the leek into 5mm rings, wash and sprinkle with salt. Leave for 10 minutes then rinse off the salt along with the excess moisture it will have brought out of the leeks – this helps them retain a slight crunch when pickled.
Combine the vinegar, water, thyme, sugar, salt and mustard seeds in a pan and gently heat until the sugar and salt have dissolved.
Blanch the leeks in salted boiling water for 20 seconds then plunge into iced water. Squeeze the leeks to remove any excess water and place in the pickling liquor. Transfer to a sterilised Kilner® Jar (make sure the leeks are completely submerged in the liquid) and leave to pickle for at least 2 days.
Preheat the oven to 180°C/gas mark 4.
To prepare the cauliflower, combine the oil, thyme, mustard, lemon juice, olive oil and a pinch of salt in a bowl. Cut the cauliflower in half and rub the mixture all over the cauliflower. Place on an oven tray and roast for 20–30 minutes.
To make the cheese sauce, melt the butter in a pan. Add the flour and cook out for a couple of minutes. Add the bay leaf, slowly whisk in the milk and simmer over a low heat for 8 minutes, constantly stirring to avoid it catching. Stir in the grated cheese and flavour with freshly grated nutmeg, mustard, Tabasco and salt.
Toast the chopped hazelnuts, flaked almonds and pumpkin seeds in a dry pan until golden. If serving with bacon, grill until crispy.
Place a cauliflower half on each plate, drizzle with cheese sauce and top with some drained pickled leeks, toasted nuts, crispy bacon and finely chopped chives.