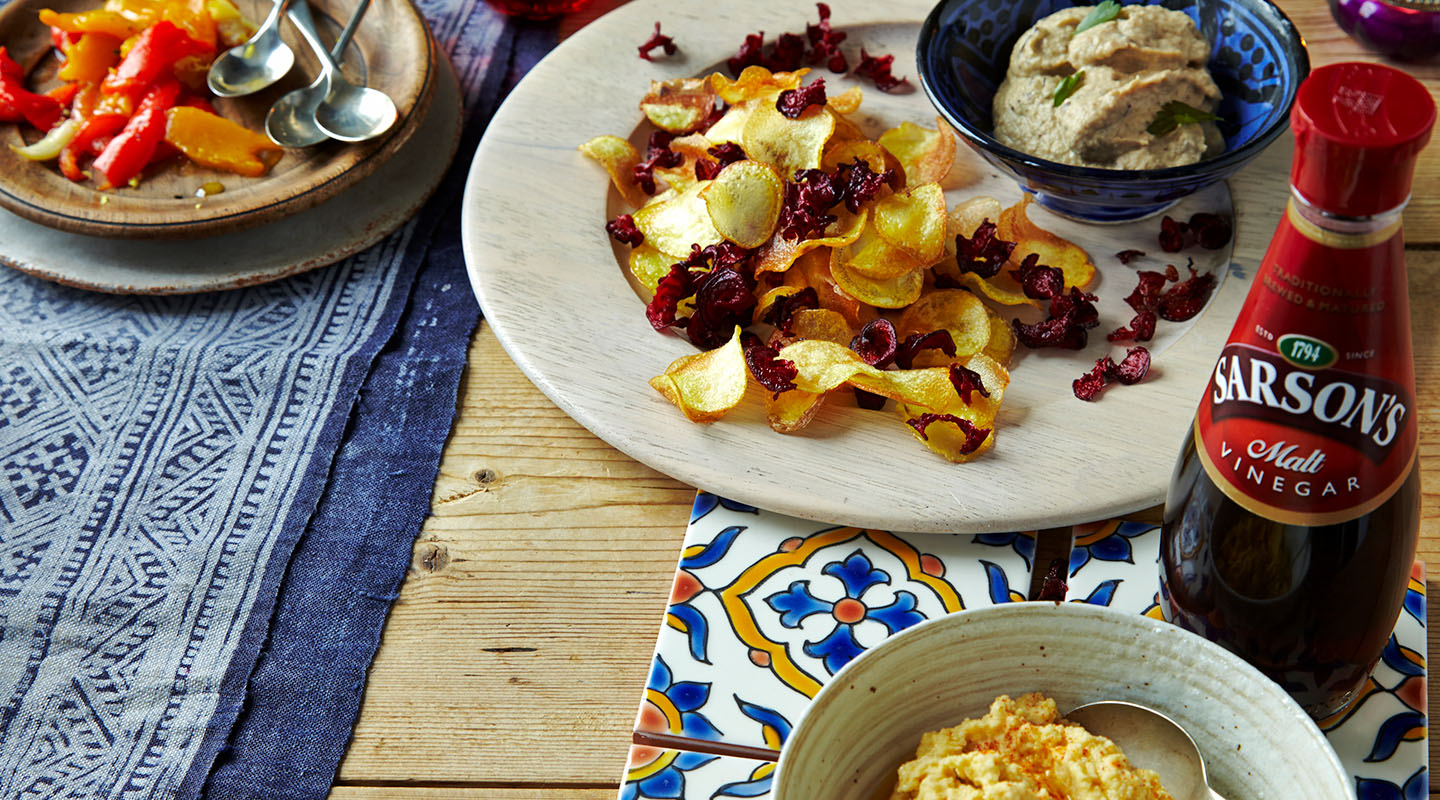 Ingredients
3 any colour peppers
4 cloves of garlic, unpeeled
1 aubergine, whole
6 tbsp olive oil, plus extra for garnish
200g tin chickpeas, drained
Zest and juice of 2 lemons
1 tsp paprika, plus extra to garnish
Vegetable oil, to deep fry
4 Charlotte or small potatoes, sliced and soaked in cold water
2 beetroots, sliced
1 tsp honey
2 tsp Sarson's Malt Vinegar, plus extra to dress
2 tbsp Greek yogurt
Fresh flat leaf parsley, to garnish
Sea salt and ground black pepper
Method
Preheat the oven to 200C/gas 6. Place the peppers, 3 cloves of garlic and aubergine on a roasting tray and dress with half of the oil. Roast for 25 mins. Place in a bowl and cling film. Stand for 10 mins. Turn the oven down to 150C/gas 3.
Meanwhile, peel the remaining clove of garlic and then put in a food processor with the chickpeas, zest and juice of 1 lemon and 1 tbsp olive oil. Transfer to a serving dish, garnish with oil and sprinkle with paprika.
Fill a saucepan one-third of the way up with vegetable oil and heat until a little piece of beetroot sizzles. Drain and dry the potato slices, then lower them in batches into the oil. Fry for 2-3 mins, until golden and crisp, then drain in a single layer on kitchen paper. Transfer to an oven tray, making sure they are in a single layer, then repeat the process with the beetroot slices. Bake for 5 mins, then leave to cool for 10 mins, on the trays.
In the meantime, remove the tops, seeds and skin from the peppers and rip into strips. Place on a plate, with the roasted garlic and dress with the honey, Sarson's vinegar, 1 tbsp of olive oil and the remaining lemon zest. Season with salt and pepper.
Trim the aubergine, then, in a food processor, whizz it up with the yogurt and the juice of the remaining lemon and remaining olive oil. Mix in the paprika and season with salt. Serve with the crisps, dressed with vinegar and salt, the pepper dish and chickpeas.