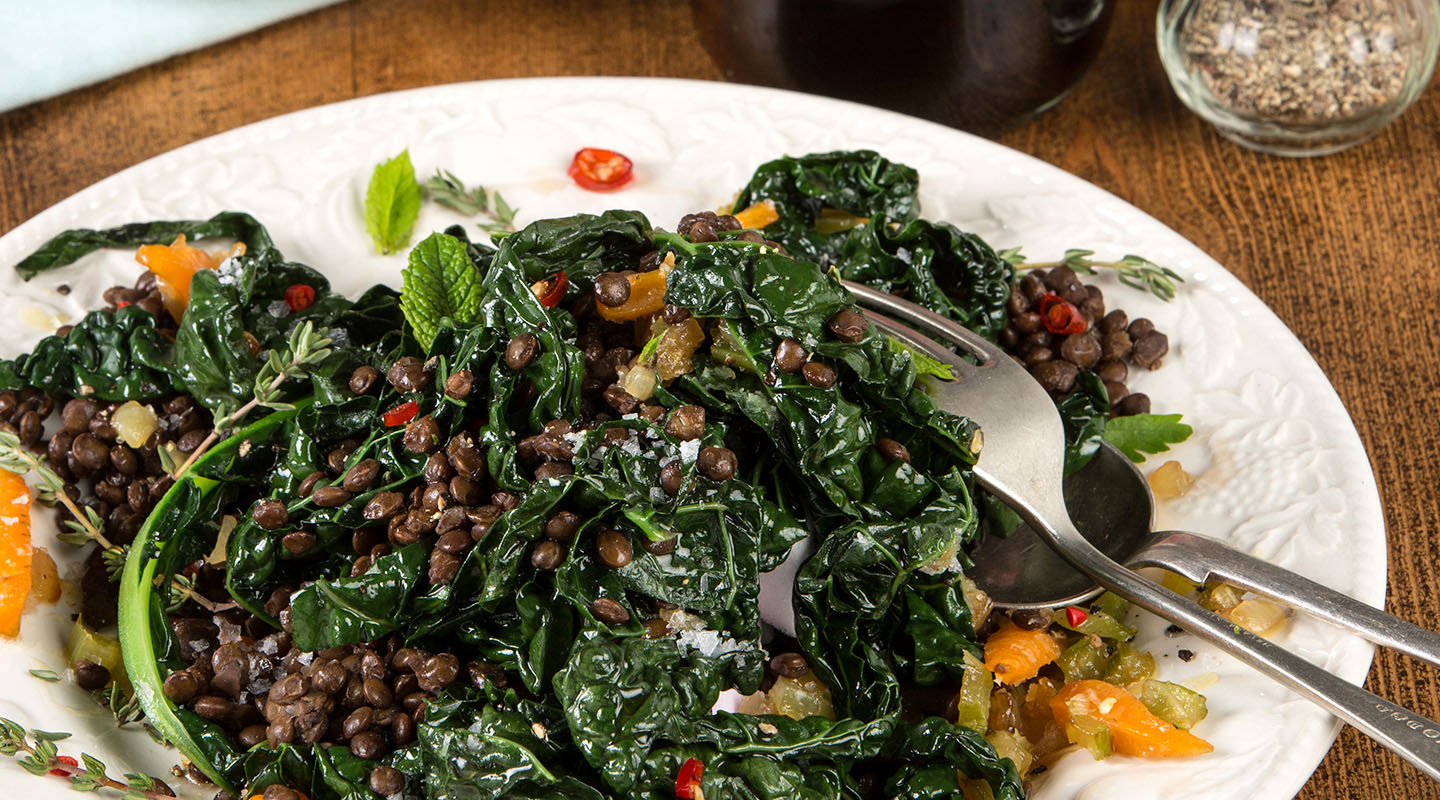 Cavolo Nero with Puy Lentils & Hot Sauce
Ingredients
1 tbsp groundnut oil
500g Puy lentils, rinsed
1 onion, finely diced
1 carrot, peeled and finely diced
1 celery stick, finely diced
2 garlic cloves
2 bay leaves
Small bunch of thyme
1 tbsp rapeseed oil
300g cavolo nero, leaves and stalks washed and shredded (swiss chard is a good alternative)
100ml Sarson's Malt Vinegar
100ml water
2 red chilli, sliced
1tsp sugar
Large bunch of parsley, mint and coriander, leaves picked and roughly chopped
Salt and pepper, to season
Method
Heat the rapeseed oil in a frying pan. Add the onion, garlic, carrot and celery and stir through until everything is evenly coated. Reduce the heat and cook slowly for about 20 minutes until everything is caramelised and sweet.
Place the lentils into a deep saucepan, along with the bay leaves and thyme and add enough water to cover the lentils completely. Bring to the boil and then reduce to a gentle simmer and cook for a further 20 minutes. Drain and remove the bay leaves and thyme.
For the vinegar sauce: Place Sarson's Malt Vinegar, water, sugar and half the chilli into a saucepan. Bring to the boil and reduce by half.
For the cavolo nero: Heat 1 tbsp of groundnut oil in a heavy-based frying pan. When hot, fry the shredded cavalo nero tossing and shaking for 5 minutes until tender.
To serve, pour the lentils into the caramelised vegetable mix and stir through and spoon a generous amount on each plate. Add the cavolo nero and remaining herbs to the warm vinegar dressing. Stir through and drizzle over the cavolo nero and lentils. Add a sprinkle of the chopped chilli.
Season to taste.