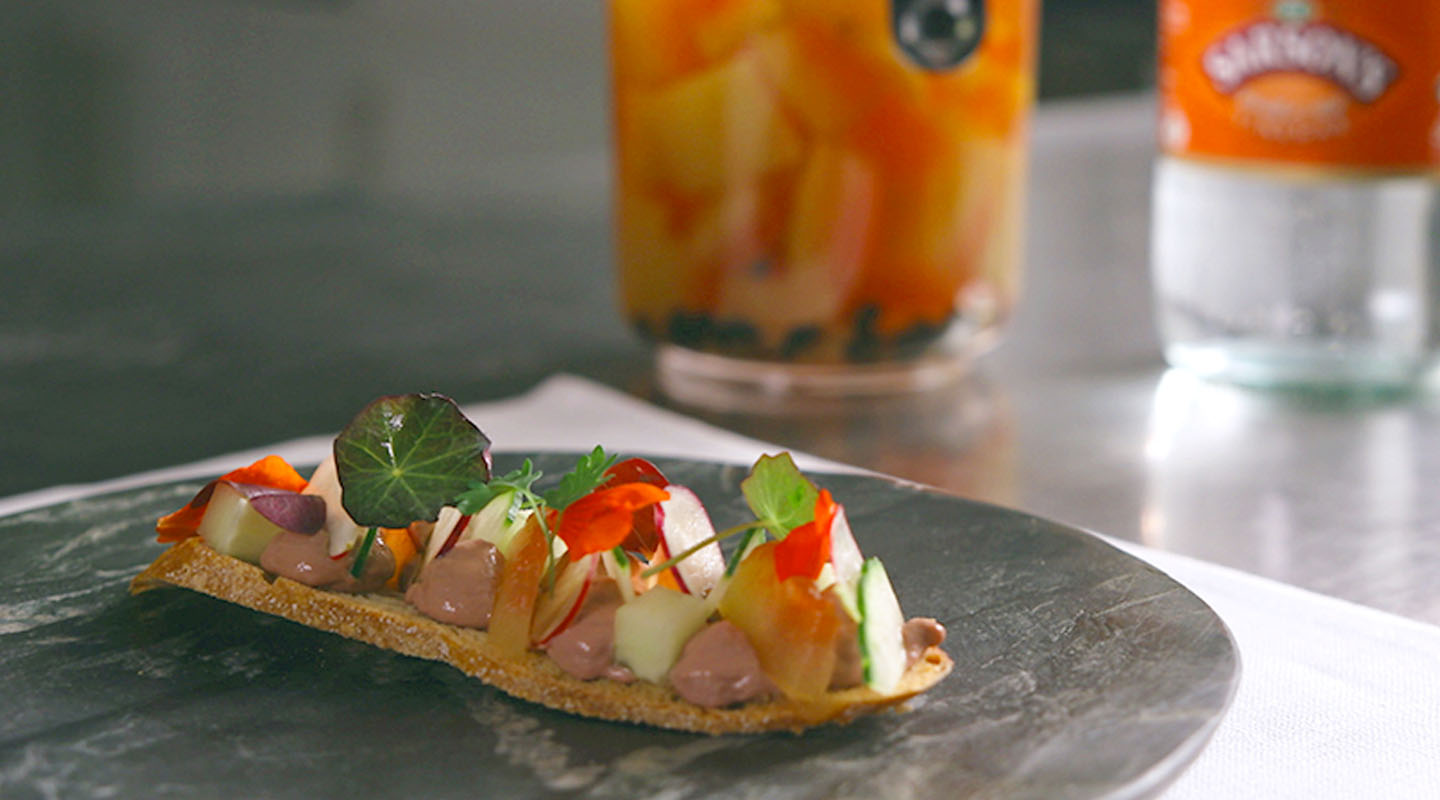 Ingredients
Chicken Liver Parfait
400g of chicken livers
50ml of brandy
50ml of Madeira
4 gelatine leaves
140ml of water
50g of butter
Salt
Pepper
Pickled Watermelon
1 mini watermelon
200ml of distilled malt vinegar
200ml of water
200g of caster sugar
1 knob of ginger, sliced
1 tbsp of black peppercorns
1 tbsp of coriander seeds
To Serve
10 slices of baguette, sourdough
6 radishes, mixed colours
1/4 cucumber
Edible flowers
Nasturtium flowers and leaves
Salad burnet
Method
1) Begin by pickling the watermelon. Peel the dark green outer layer from the watermelon then cut in half. Cut into wedges 2–3cm in thickness and cut away the pulp of the watermelon, leaving about 2mm of the fruit on the rind. Cut each slice into chunks.
2) Bring a pan of salted water to the boil and cook the rind for 4–5 minutes until just beginning to soften. Drain and transfer into a clasp-top jar.
3) Place the water, sugar, vinegar, ginger, peppercorns and coriander in a pan and bring to the boil. Boil until all the sugar has dissolved then leave to cool slightly before pouring over the watermelon rind and closing the lid. Refrigerate for 48 hours.
4) Next make the parfait. Let the livers come to room temperature and soak the gelatine in cold water until softened. Place the brandy and Madeira in a small pan and reduce by half, then add the water and bring to the boil.
5) Place the livers in a blender and begin to blitz. Pour in the boiling liquid, season with salt and pepper and add the squeezed gelatine. Continue to blitz until the temperature reaches 68°C on a thermometer, then quickly blend in the butter and pass through a fine sieve. Chill in a bowl over ice for at least 4 hours until set.
6) Preheat the oven to 160°C/gas mark 3.
7) Toast the slices of bread in the oven for around 10 minutes until golden brown. Leave to cool.
8) Slice the radishes and cucumber into thin slices on a mandoline and slice the watermelon rind into pieces.
9) Whisk the parfait until smooth then transfer to a piping bag.
10) Pipe dots of the parfait onto each slice of bread and arrange the slices of radish, watermelon and cucumber. Garnish with the mixed herbs and flowers and serve.