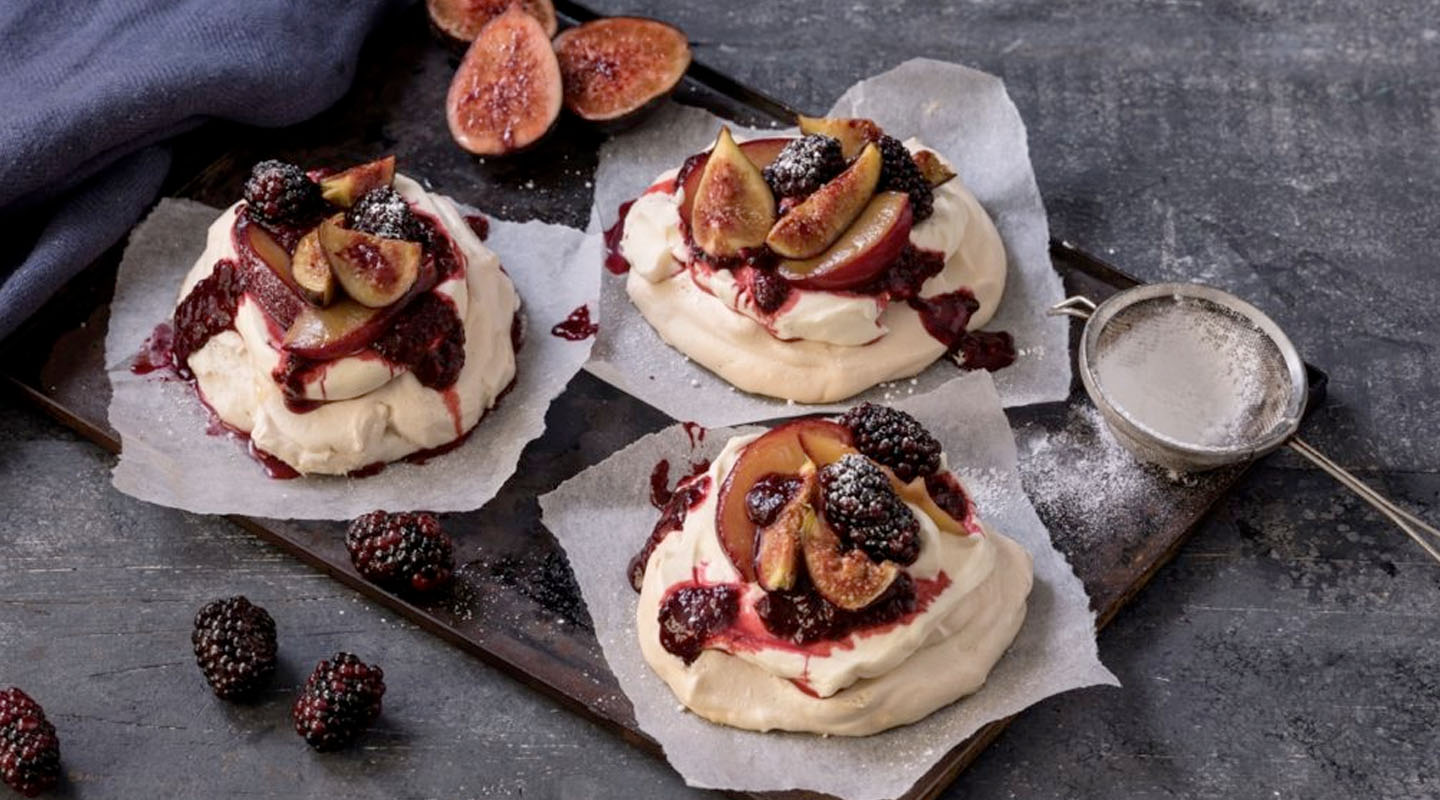 Ingredients
Meringues
8 egg whites
1 pinch of salt
1 tsp distilled malt vinegar
5g of cornflour
400g of caster sugar
1 vanilla pod
Vanilla Cream
300ml of double cream
50g of caster sugar
1 vanilla pod
Blackberry Purée
100g of blackberries
1 tsp icing sugar, optional
Autumn Fruits
3 plums
3 figs
100g of blackberries
Honey
Icing sugar, to dust
Method
To make the meringue, preheat the oven to 100°C/gas mark ¼.
Place the egg whites in a bowl and start to whisk. Add the salt and whisk to soft peaks.
Whisk in the vinegar and slowly sift in the cornflour
Add the caster sugar slowly, continuing to whisk until the meringue thickens. Split and scrape the seeds out of the vanilla pod, add the vanilla seeds and whisk to stiff peaks.
Spoon the meringue into 6 mounds on a baking sheet lined with parchment paper and shape into circles. Bake for about 2 ½ hours until dry and crisp.
Remove from the oven and cool on a wire rack.
To prepare the cream, scrape the vanilla seeds from the pod and add to a bowl with the cream and sugar. Whip the cream until it forms soft peaks.
To make the blackberry purée, add the berries to a blender and blitz until smooth. Taste the purée and add the icing sugar if it's a little too tart.
Preheat the oven to 200°C/gas mark 6.
Quarter the figs and cut the plums into sixths. Roast in the oven with a drizzle of honey for 5–10 minutes, until golden and just starting to soften.
To assemble the pavlovas, lightly bash the tops of the meringues and add a generous dollop of cream to each one. Drizzle with some of the blackberry purée and top with the plums, figs and the remaining fresh blackberries. Finish with a dusting of icing sugar.