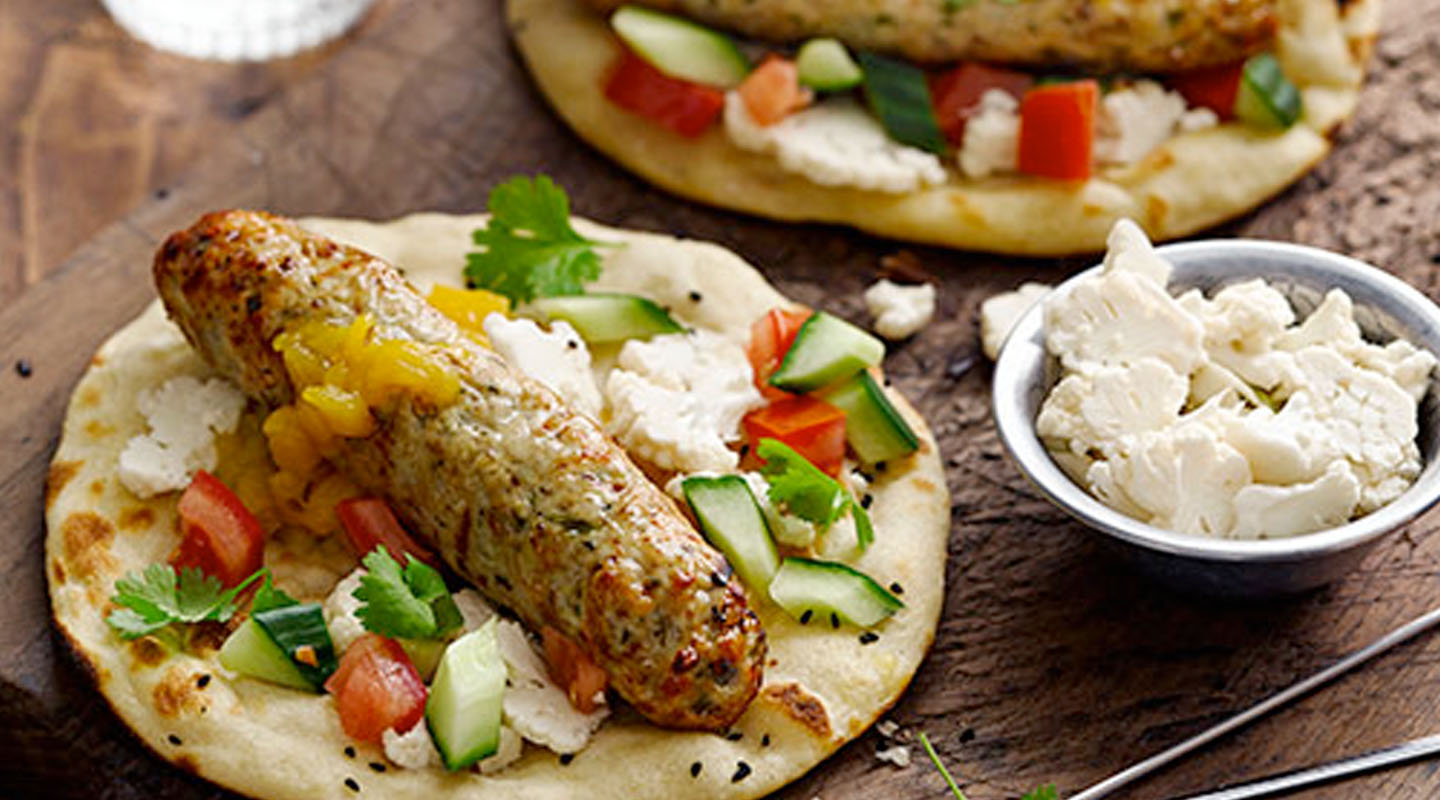 Ingredients
For the Seekh Kebab
250 grams chicken or turkey mince (fat content approx 7%)
2 Spring onions, greens finely sliced
2 teaspoons finely chopped coriander
1 teaspoon finely diced ginger
1 small green chilli, finely diced
1 garlic clove, minced
½ teaspoon Fenugreek
½ teaspoon Garam masala
Pinch of salt
For the Malted Mango Chutney
1 mango
25 grams sugar
2 teaspoon Sarson's malt vinegar
¼ teaspoon cumin seeds
Pinch of salt
For the Quick Pickled Cauliflower
½ small cauliflower
4 tablespoon Sarson's Malt Pickling Vinegar
1 teaspoon sugar
To serve
4 small naan breads
Tomato and cucumber, diced (optional)
Coriander sprigs (optional)
Method
For the Malted Mango Chutney
Peel the mango and remove the stone.
Dice the flesh into small cubes, around 0.5cm. Combine the ingredients in a microwave safe jug or bowl. Cover the top with cling film. Microwave on full power for 5 minutes, stirring half way. Remove the cling film and leave to cool.
For the Quick Pickled Cauliflower
Slice the cauliflower into thin sheets or cut in to very small florets. Lay in a shallow dish.
Sprinkle over the sugar then pour over the malt vinegar. Leave to soak.
For the Kebab
In a large mixing bowl, combine all the ingredients. Knead with the hands until the mince holds together well. If the mix is too dry, add 1 tsp groundnut oil or 1 tsp flour if too wet.
Preheat the grill to 200 degrees C.
With wet hands to prevent sticking, form the mince into lengths on two metal skewers. The kebabs should be around 1 inch thick.
Lay the skewered kebabs over a rack with a tray underneath to catch any liquid. Grill for 10 minutes, or until meat is cooked through and beginning to brown on the outside. Turn regularly to ensure even cooking throughout.
If preparing ahead, kebab meat can be mixed and left in a sealed container in the fridge for 24 hours, ready to be cooked.
To serve
Warm the naans according to packet instructions.
Remove the kebabs from the skewers and lay in the naan.
Layer in the chutney, pickled cauliflower, cucumber and tomato. Serve immediately.