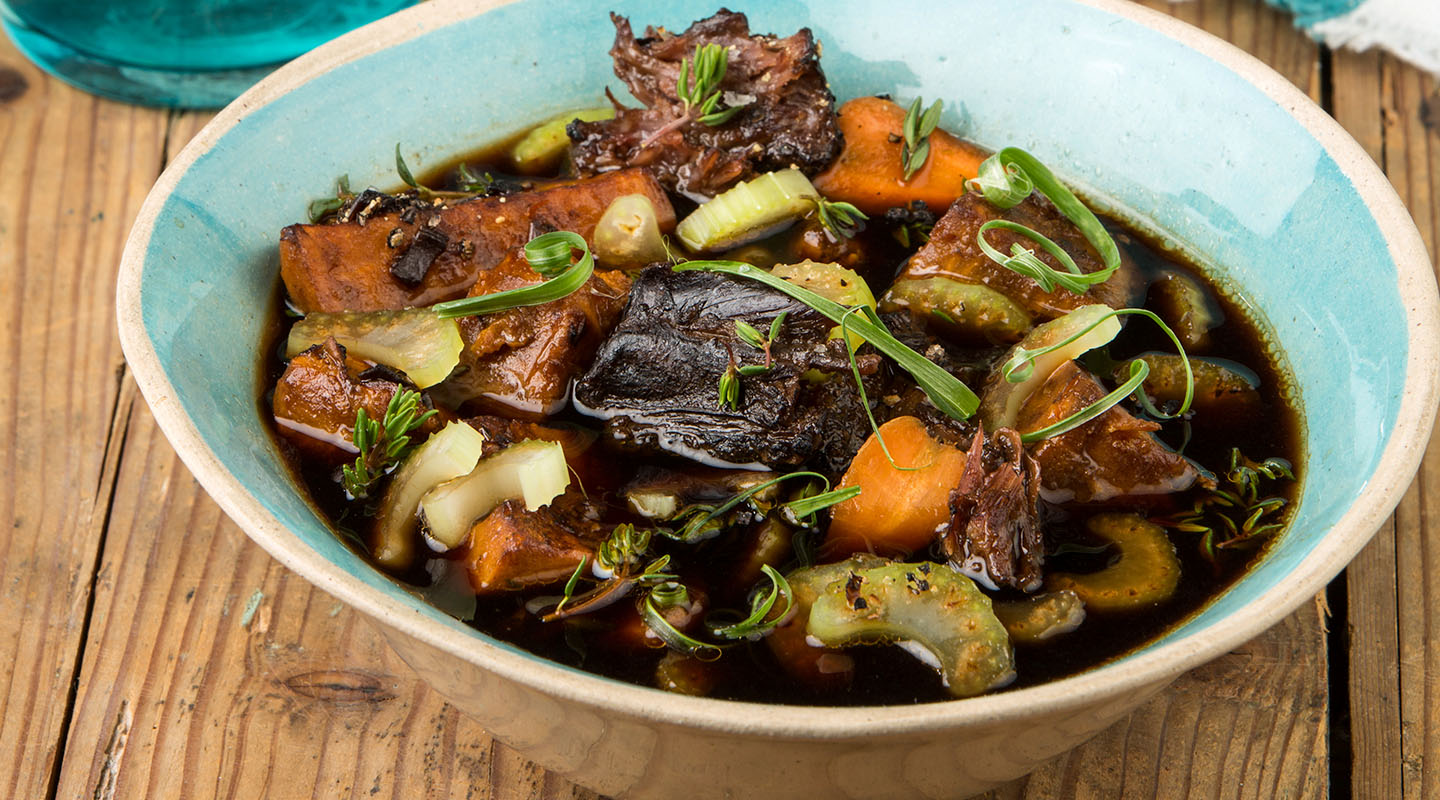 Ingredients
1 ½ tbsp Sarson's Browning Sauce
550g oxtail, cut into 2.5 inch pieces and trimmed of fat
2 tbsp rapeseed oil
1 tbsp plain flour
1 litre of good-quality beef stock
1tbsp tomato paste
½ tbsp soy sauce
½ onion, roughly chopped
½ celery stalk, roughly chopped
1 carrot, roughly chopped
2 cloves of garlic, roughly chopped
2 large sprigs of thyme
1 tbsp finely chopped chives
½ thumb-sized piece of ginger, peeled and roughly chopped
2 bay leaves
1 whole, un-pierced and un-bruised scotch bonnet
¼ to ½ tsp of scotch-bonnet hot sauce (optional)
2 small sweet potatoes, peeled and roughly chopped
Sea salt and freshly ground black pepper
Method
Heat the oil in a large, flameproof casserole dish. Brush the oxtail generously with the Sarson's browning sauce before adding to the pan and frying over a high heat until browned on both sides. Take the oxtail out of the dish and put it on a plate.
Reduce the heat to medium; add extra oil to the pot if it is dry. Add the onion, celery and carrot to the casserole and cook for about 5 to 10 minutes, stirring occasionally. Add the garlic, thyme, chives, ginger and bay leaves and stir for about 30 seconds, until the aromas are released.
Stir in the flour and return the oxtail (and any juices) to the pan and pour in the stock.
Stir in the tomato paste, soy sauce, hot sauce (optional) and give the whole thing a good stir.
Bring to the boil and then turn down the heat to a gentle simmer. Add in the whole scotch bonnet and put the lid on.
After an hour, remove the scotch bonnet and discard it, return the lid to the pot and continue to cook for another 2 hours. Add the sweet potato and continue to cook for 40 minutes, with the lid on, until the potato is tender and the meat should easily fall away from the bone.
Using a slotted spoon or tongs, transfer the oxtail to a chopping board and carefully pull away the meat from the bone using a fork or knife.  Discard the bones.
Remove the bay leaves and woody thyme stalk from the soup and blitz until smooth.  Add the oxtail meat to the soup, season and serve.