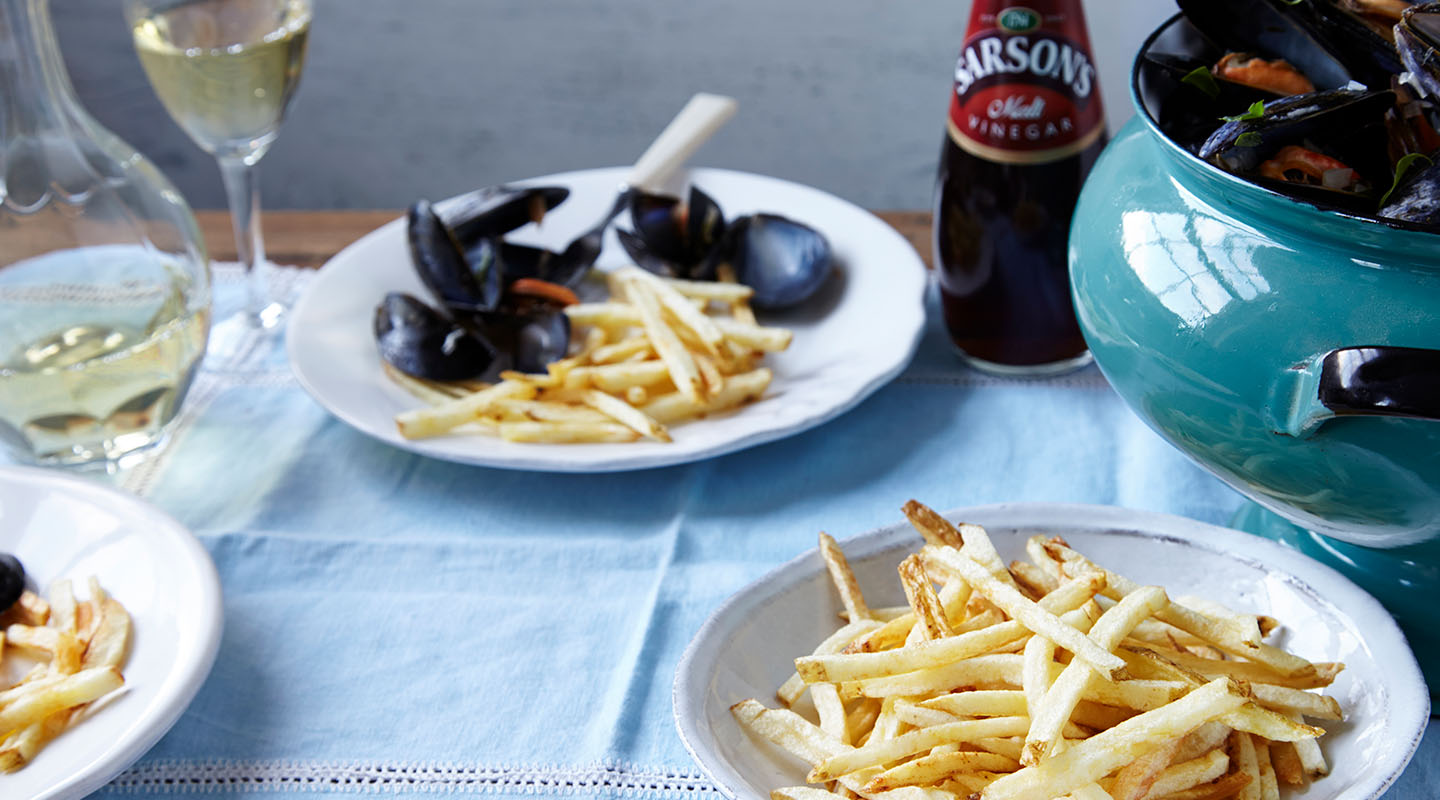 Ingredients
1kg mussels, cleaned and beards removed
1 tbsp olive oil
2 shallots, chopped
1 tsp sugar
2 clove of garlic, thinly sliced
250ml white wine
Vegetable oil, for deep fat frying
2 large Maris Piper, unpeeled, chopped into fries and soaked in cold water
2 tbsp butter
7g fresh flat leaf parsley, chopped
Zest and juice of 1 lemon
Salt and ground black pepper
Method
Place the cleaned mussels in a bowl and place in the sink, then run cold water over the mussels. Discard any mussels that do not close after tapping.
In a large saucepan, heat the oil and sauté the shallots, sugar and garlic for 2 mins. Add the white wine and season with salt, then reduce it by half.
Meanwhile, in a large saucepan, pour the vegetable oil one-third of the way up and heat to around 180C (add a small piece of a chip and if it sizzles, the oil is ready). Dry the fries with kitchen paper, then fry in small batches for 6-7 mins, or until golden, and then drain on a plate lined with kitchen roll.
Go back to the wine mixture and pour in 50ml cold water and add the parsley, and bring to the boil, covered.
Drain the mussels and add to the saucepan, covering with the lid immediately. Cook on a medium heat for 1-2 mins, until all the mussels have opened and are just cooked through.
Stir in the butter and lemon juice and zest, and season with black pepper.
Serve with the fries, dressed in Sarson's vinegar and salt.