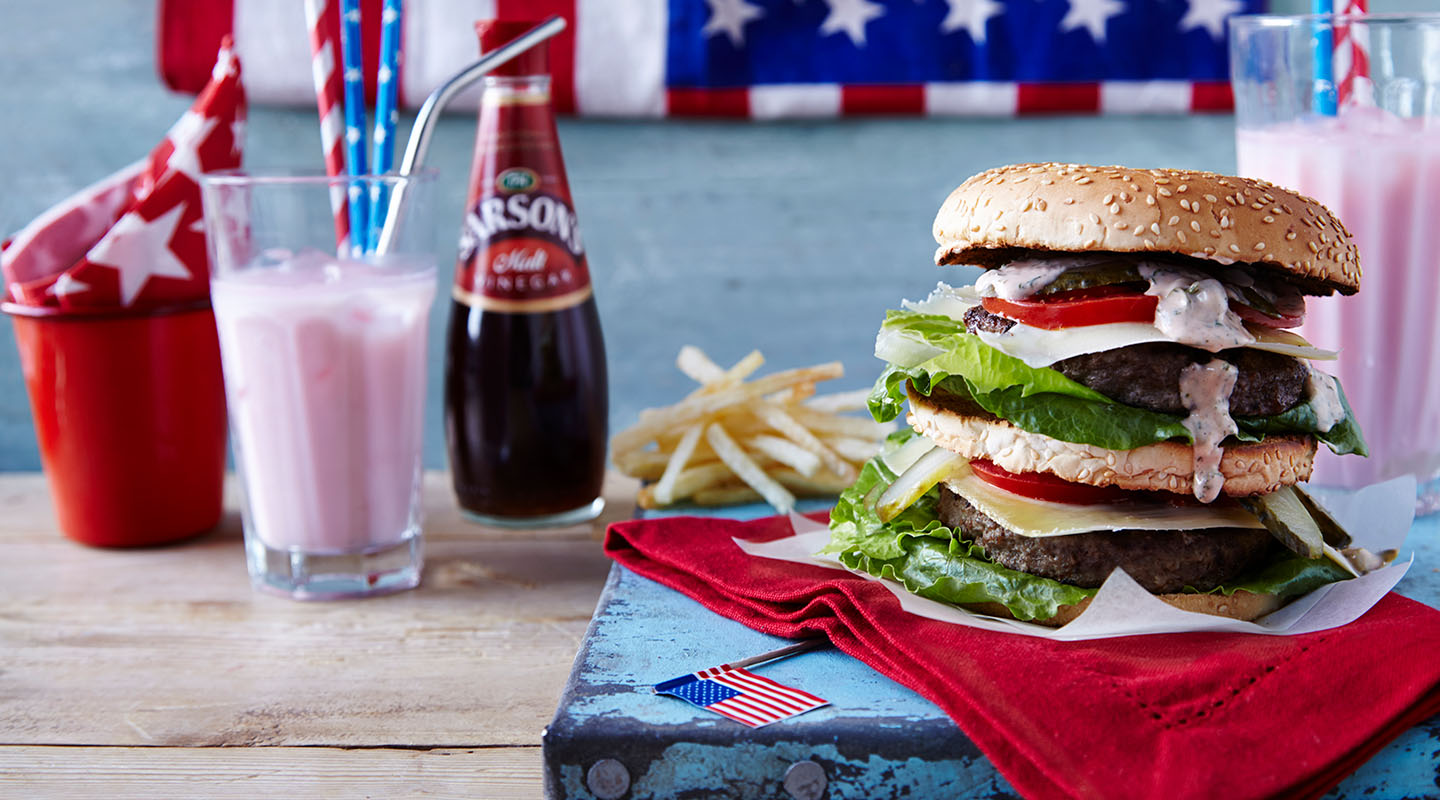 Ingredients
350g mince beef
1 clove of garlic, crushed
1 egg, beaten
2 tsp Dijon mustard
Flour, to dust
4 tbsp mayonnaise
1 tsp tomato purée
1 tsp Sarson's Malt Vinegar, plus extra to dress
2 tsp capers, crushed
Juice of ¼ orange
4g fresh dill, chopped, or 1 tsp dried dill
Pinch of cayenne pepper
3 seeded burgers
4 slices of Swiss cheese
Lettuce, sliced tomato and sliced gherkins, to dress
2 Maris Piper potatoes, sliced into fries and soaked in cold water
Vegetable oil, to deep fat fry
Salt and ground black pepper
Method
In a large bowl, combine the mince beef, garlic, egg and mustard, then season with pepper. With flour dusted hands, shape the mince into four thin burgers and store between pieces of greaseproof paper, then chill for 20 mins.
Meanwhile, drain and dry off the fries with kitchen paper, and in a small bowl, mix together the mayonnaise, tomato purée, Sarson's vinegar, capers, orange juice, dill and cayenne. Grill the one side of the burger buns under a preheated grill, then arrange the burger buns, discarding two of the bottoms, on two plates, and top the bottom and middle pieces with the lettuce, tomato and gherkins.
Heat a griddle pan and cook the burgers for 2-3 mins on each side, until cooked through. Place a bottom bun piece on a plate each and top each with a slice of cheese and a spoonful of the mayonnaise sauce. Top with the middle buns and repeat, then top with the top buns.
In a large saucepan, pour the vegetable oil one-third of the way up and heat to around 180C (add a small piece of a chip and if it sizzles, the oil is ready). Fry the fries in small batches for 5-6 mins, or until golden, and then drain on a plate lined with kitchen roll. Serve with the burger and dress with salt and Sarson's vinegar.