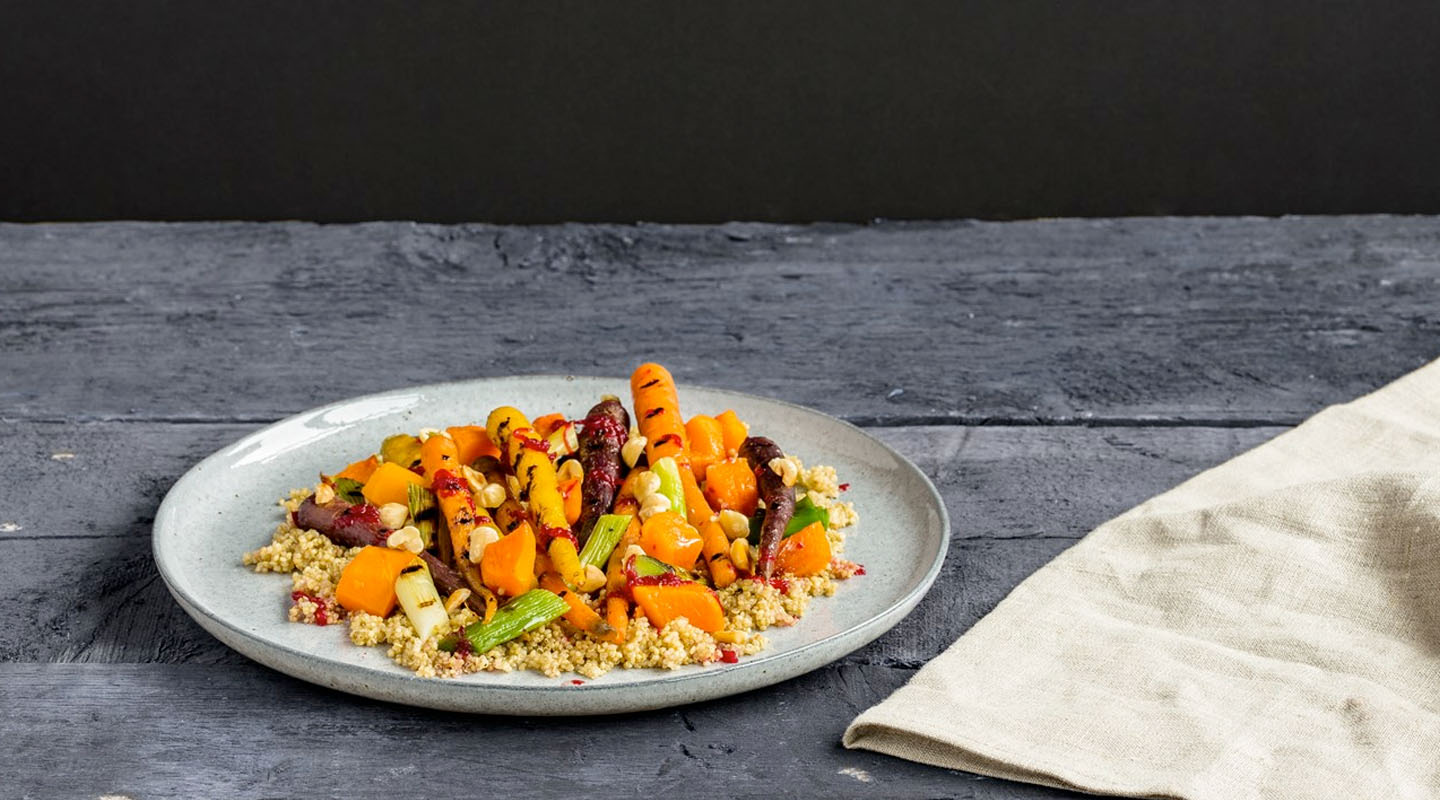 Autumn Vegetable Salad with Beetroot Dressing
Ingredients
Autumn Vegetable Salad
1/2 acorn squash, peeled and cut into 2cm dice
3 garlic cloves, skin on, cut in half
2 sprigs of thyme
120g of quinoa
1 onion, halved
1 bunch of baby heritage carrots, tops trimmed
3 baby leeks, thoroughly washed
20ml of rapeseed oil
30g of blanched hazelnuts, toasted and halved
80g of goat's curd
Salt
Pepper
Beetroot Dressing
2 cooked beetroots, finely grated
400ml of port, (or red wine) reduced to 100ml
4 tbsp of malt vinegar
4 tbsp of water
100ml of rapeseed oil
100ml of walnut oil
Salt
Pepper
Method
Preheat the oven to 180°C/gas mark 4.
Place the diced acorn squash on two layers of kitchen foil, drizzle with the rapeseed oil and add the garlic cloves and one sprig of thyme. Seal the foil into a pillow shape, ensuring it is completely sealed on each side to not let the heat out. Place on a shallow baking tray and into the oven for 25–35 minutes.
Rinse the quinoa well in cold water for about 10 minutes then drain. Cover the quinoa with 300ml of water, add the onion halves and the other sprig of thyme.
Bring the quinoa to the boil then simmer gently for around 15 minutes until tender, or until the water has been absorbed. Remove the quinoa from the saucepan, discard the onion and thyme sprig, and leave to cool to room temperature on a tray until needed.
Make the dressing by mixing together all the ingredients. Check the seasoning.
Bring a large saucepan of lightly salted water to the boil. Blanch the whole leeks for 2–3 minutes then place in a colander to drain.
Now add the baby carrots to the water and blanch for 1 minute only. Place in the colander to drain.
Heat a griddle pan to a high heat. Season the whole blanched leeks and baby heritage carrots with salt and pepper and place on the hot griddle pan. Grill until they are nicely charred, then remove from the heat.
Cut the charred baby leeks at an angle into 2cm pieces.
Remove the acorn squash from the oven when it is just tender and discard the garlic cloves and thyme sprig.
Scatter the quinoa over a large serving plate. Arrange the charred leek pieces, roasted acorn squash and heritage carrots over the top, so they overlap nicely.
Spoon the beetroot dressing over and around the vegetables, but do not over dress them. Spoon a little of the goat's curd in and around the charred leeks and carrots and then scatter the toasted hazelnuts on top.