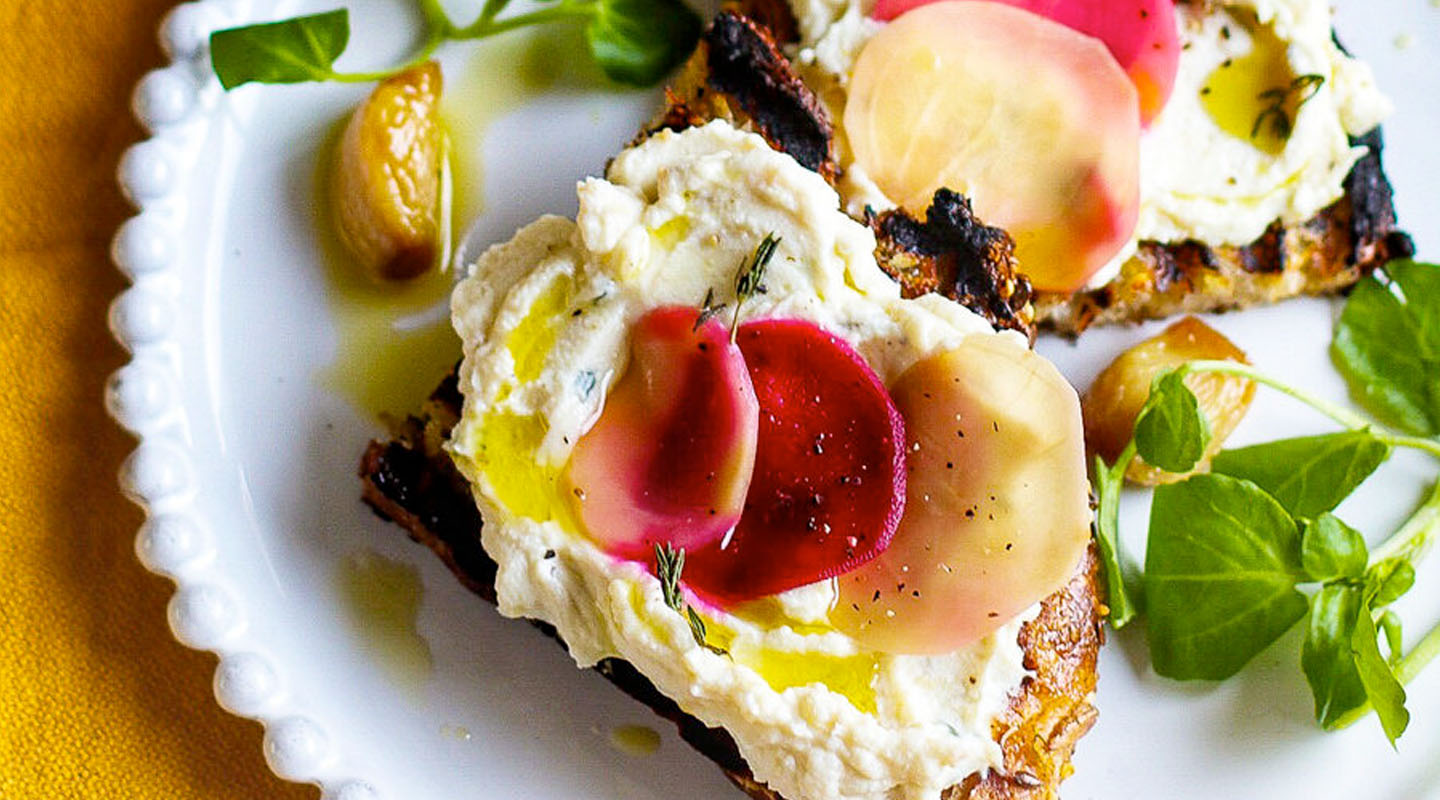 Bruschetta with confit garlic, ricotta & pickled beetroot
Ingredients
For the beetroot pickle
250ml Sarson's malt vinegar
100ml water
50g sugar
2 Tsp sea salt
2 bay leaves
5 black peppercorns
3 cloves
2 star anise
Pinch of coriander seeds
Strip of fresh ginger
2-3 small mixed beetroots, peeled and finely sliced
For the garlic confit
1 head of garlic, broken down and cloves peeled
200ml olive oil
1 dried red chilli or tsp of chilli flakes
2 slices of sourdough
1 250g tub of ricotta, drained over a sieve for at least an hour
Sea salt and pepper
Olive oil
½ tsp honey
Thyme leaves
Method
Heat your oven to 140 degrees, with fan.
First, we're going to make the confit garlic. Place the garlic cloves in a small roasting dish with the dried chilli and cover with the olive oil. Foil the dish and place in the oven for 1 hour, until soft and fudgy. While that's cooking, make your pickled beetroot pickle. In a non-reactive pan, combine the Sarson's malt vinegar with the water, sugar, sea salt, bay leaves, peppercorns, cloves, star anise, coriander seeds and ginger. Bring to the boil over medium heat, stirring to dissolve the sugar, then remove from the heat. If you're using different coloured beets, place them in separate bowls so the colours don't bleed into each other, then cover with the pickling liquor and allow to steep for at least 30 minutes.
Once the garlic has cooked, remove from the oven and allow to cool, then lift the cloves out of the oil and into a bowl - reserving the delicious, garlic-infused oil. Add in the drained ricotta and smush it all together with the back of a fork, mashing the soft garlic into the cheese. Season well with salt and pepper, then stir through the honey, thyme leaves, and a spoonful of the garlic-infused oil.
Brush the bread with a little of the garlic oil and heat a griddle pan over high heat, then toast the bread until toasted and charred in places. Spread with the garlicky ricotta mixture and top with drained beetroot slices. Scatter over a few extra thyme leaves.