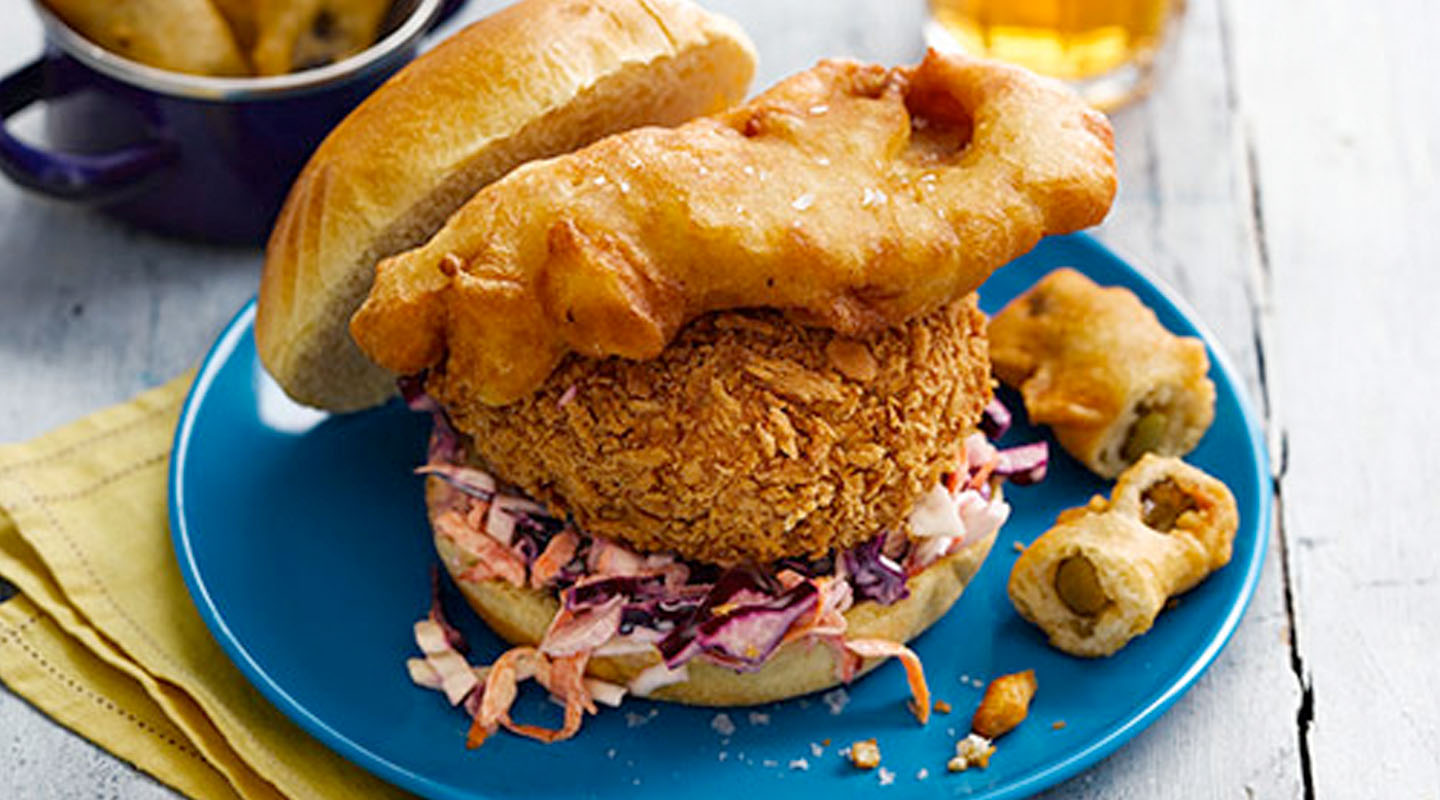 Crab Cake & Pickled Red Cabbage by Hip Hop Chip Shop
Ingredients
For the crab cake
235g White crab
85g Coley
85g Potato
35g Lemon juice
1tbsp Creole seasoning
10g Salt
5g Flour
5g Egg
5g Panko Breadcrumbs
For the battered bacon
1 rasher Smoked Back Bacon
750g Plain Flour
1tbsp Sarsons Malt Vinegar
176ml Beer or Soda Water
½ tsp Baking power
For the coleslaw
¼  of Red Cabbage
3 Carrots
1 onion White Onion
200g Mayo
1tbsp Sarsons Pickling Vinegar
Pinch of salt
Method
Boil the potatoes till soft and mash. Add the crab, lemon juice, creole seasoning, salt (to taste) panko breadcrumbs and mix into a consistent mixture. Form the mixture into balls and chill in the fridge. Whilst the mixture is cooling, set up 3 containers, one for plain flour, one for a whisked egg mixture and the third for the panko breadcrumbs. Take the crab cake balls and first thoroughly coat the outside, then place into the egg mixture and coat thoroughly. Thirdly, coat in the panko breadcrumb and set to one side.
Cook off the bacon till it's cooked through and cool, cover in plain floor and submerge in The Hip Hop Chip Shop batter mix.
Shred the red cabbage and white onion, and grate the carrot. Add all the veg to a bowl and add a splash of Sarsons white wine vinegar and mix in the mayonnaise.
Deep fry the crabcake for 6 minutes till golden brown, deep fry the bacon for 5 minutes, turning after 2 and a half minutes to cook evenly on both sides. Add a generous spoonful of coleslaw to the brioche bun, stack the crabcake and bacon on top and put the lid on. You may need to skewer the Shell L Cool J as it's a bit of a monster.