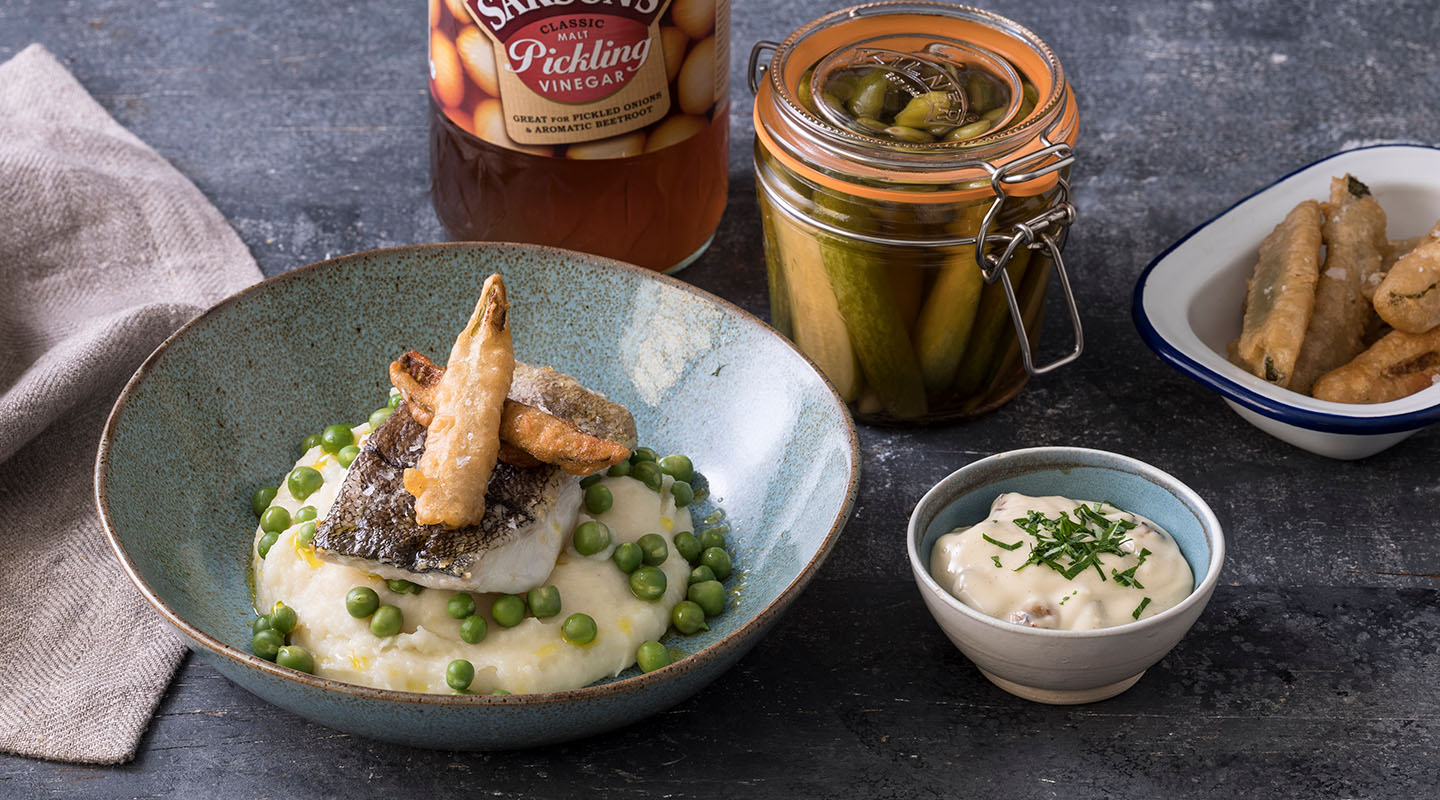 Ingredients
Haddock
2 haddock fillets, skin on, each weighing approx. 180g
1 dash of oil
Salt
Frickles
6 baby cucumbers, cut into thick strips
200ml of malt pickling vinegar
1 tbsp of sugar
1/2 tsp salt, plus extra to salt the cucumbers
100ml of water
3 dill stalks
100g of plain flour, plus a little extra for dusting
1 tsp baking powder
150ml of brown ale
Walnut Mayonnaise
3 egg yolks
1 tsp Dijon mustard
200ml of walnut oil
Lemon juice, to taste
Salt, to taste
50g of walnuts, toasted and chopped
Chopped parsley, (optional)
Salt and Vinegar Mash
2 large floury potatoes, peeled and chopped
50 butter
30ml of whole milk
Malt vinegar, to taste
Table salt, to taste
Method
Pickle the cucumbers 24 hours in advance. Place the cucumber strips into a colander, sprinkle with salt and leave for 10 minutes.
Meanwhile, combine the pickling vinegar with sugar, salt and water in a pan and heat gently until the sugar has dissolved. Remove from the heat and add the dill.
Rinse the cucumbers, then once the liquor has cooled, pour over the cucumbers and leave to pickle in the fridge overnight (make sure the cucumbers are completely submerged in the liquid).
To make the mayonnaise, whisk the yolks with the Dijon mustard until pale and doubled in volume. Slowly drizzle in the oil, whilst continuously whisking until completely emulsified. If it begins to split, add a splash of cold water to bring it back together. Season with salt and lemon juice and fold through the toasted walnuts.
To make the salt and vinegar mash, boil the potatoes in salted water until soft. Drain, pass through a potato ricer then return to the pan with butter and milk. Mix together with a spatula until you have a nice smooth mash, then season with plenty of malt vinegar and salt – it should taste like delicious chip shop chips.
Place a small pan of oil over a medium-high heat (or turn on your deep fat fryer) and heat to 180°C.
To make the batter for the pickles, place the flour and baking powder into a bowl and slowly whisk in the ale until you have a coating consistency. Season with a pinch of salt.
Drain the pickled cucumber strips on kitchen paper then dip in flour then the batter. Once the oil's hot enough (drip some batter in – it's ready if it floats and turns golden) add the pickles, taking care not to overcrowd the pan. Once golden, remove and drain on kitchen paper.
As you're frying the pickles, place a frying pan over a medium heat with a splash of oil. Salt the skin of the haddock, then place the fillets skin-side down in the pan. Cook for 4–5 minutes depending on the thickness of the fillets, until the skin is crispy. Flip over for the last minute of cooking.
Cook the peas in salted boiling water until tender then drain and set aside.
Plate the mash in the centre of a bowl and top with the fish. Lightly sprinkle the frickles with sea salt then place on top of the fish. Scatter some peas around the plates and serve the mayo on the side.