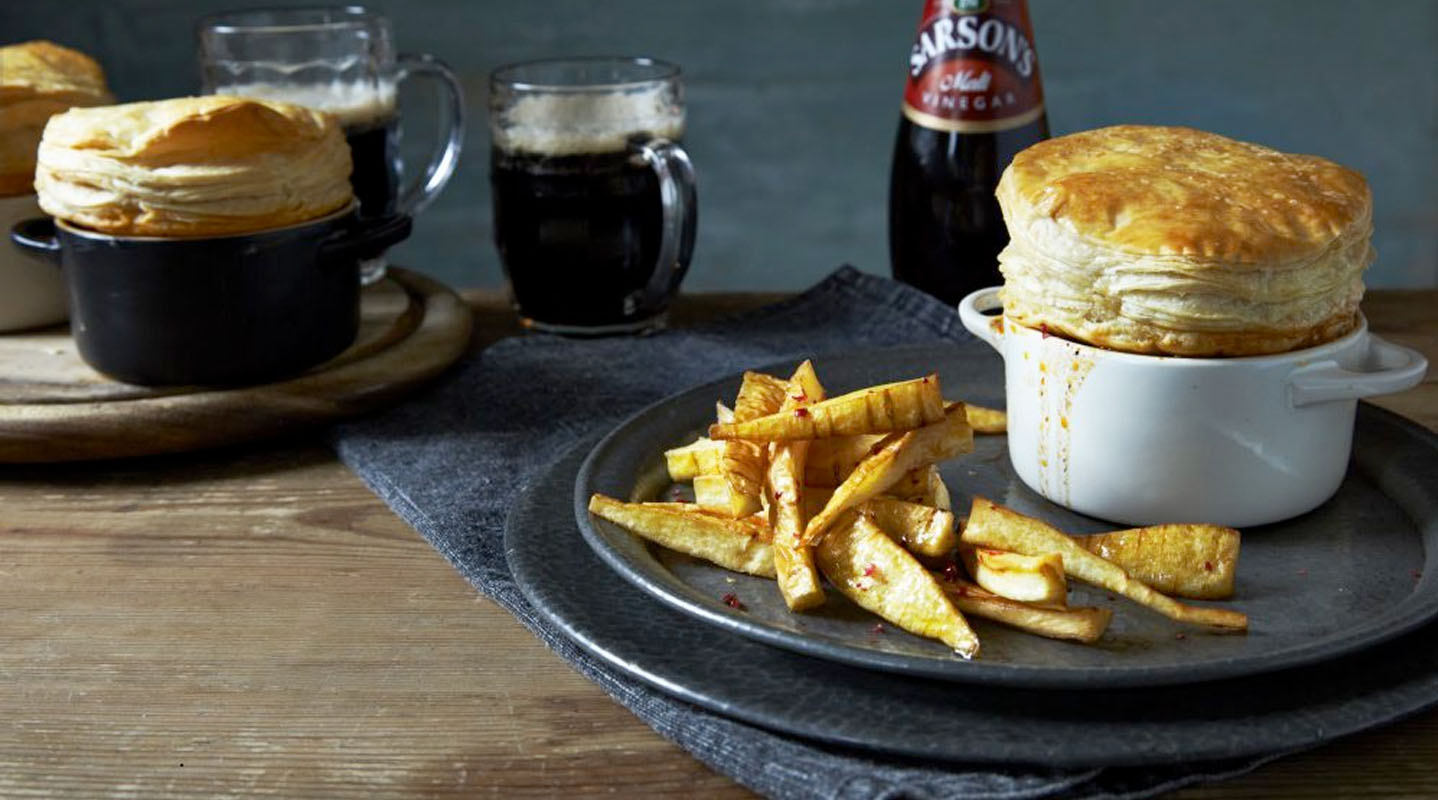 Ingredients
2 tbsp vegetable oil, for brushing
12 shallots, peeled and trimmed
1 tsp brown sugar
900g chopped chuck or stewing steak
2 sticks of celery, chopped
2 carrots, chopped
1 tbsp plain flour
2 tbsp tomato purée
400ml stout
1 tsp Worcester Sauce
2 tsp Sarson's Malt Vinegar, plus extra to dress
200ml beef stock
320g sheet of puff pastry
1 egg yolk, beaten
Vegetable oil, for deep fat frying
4 parsnips, trimmed and chipped
Sea salt and ground black pepper
Pink peppercorns, for garnish
Method
In a large saucepan, heat the oil and sauté the shallots for 2 mins, before mixing in the sugar.
Add the steak and stir, sealing on all sides, then add the celery and carrots.
Cook, stirring, for 3 mins, then stir in the flour and tomato purée and cook for 1 min.
Pour in the stout, Worcester Sauce, vinegar and beef stock, and bring to the boil.
Simmer, covered, for 1 hour 30 mins, until tender. Allow it to cool slightly.
Preheat the oven to 200C/gas 6. Either using one large pie dish or four single ones, cut the pastry lid/s out of the pastry sheet, then fill the dish or dishes with the steak mixture and top with the pastry. Brush with the beaten egg and bake for 10-15 mins on the middle shelf until puffed up and golden.
Meanwhile, in a large saucepan, pour the vegetable oil one-third of the way up and heat to around 180C (or add a small piece of a chip and if it sizzles, the oil is ready).
Fry the parsnips in small batches for 5-6 mins, or until golden, and then drain on a plate lined with kitchen roll.
Serve, dressed in pink peppercorns and Sarson's vinegar, with the pie.