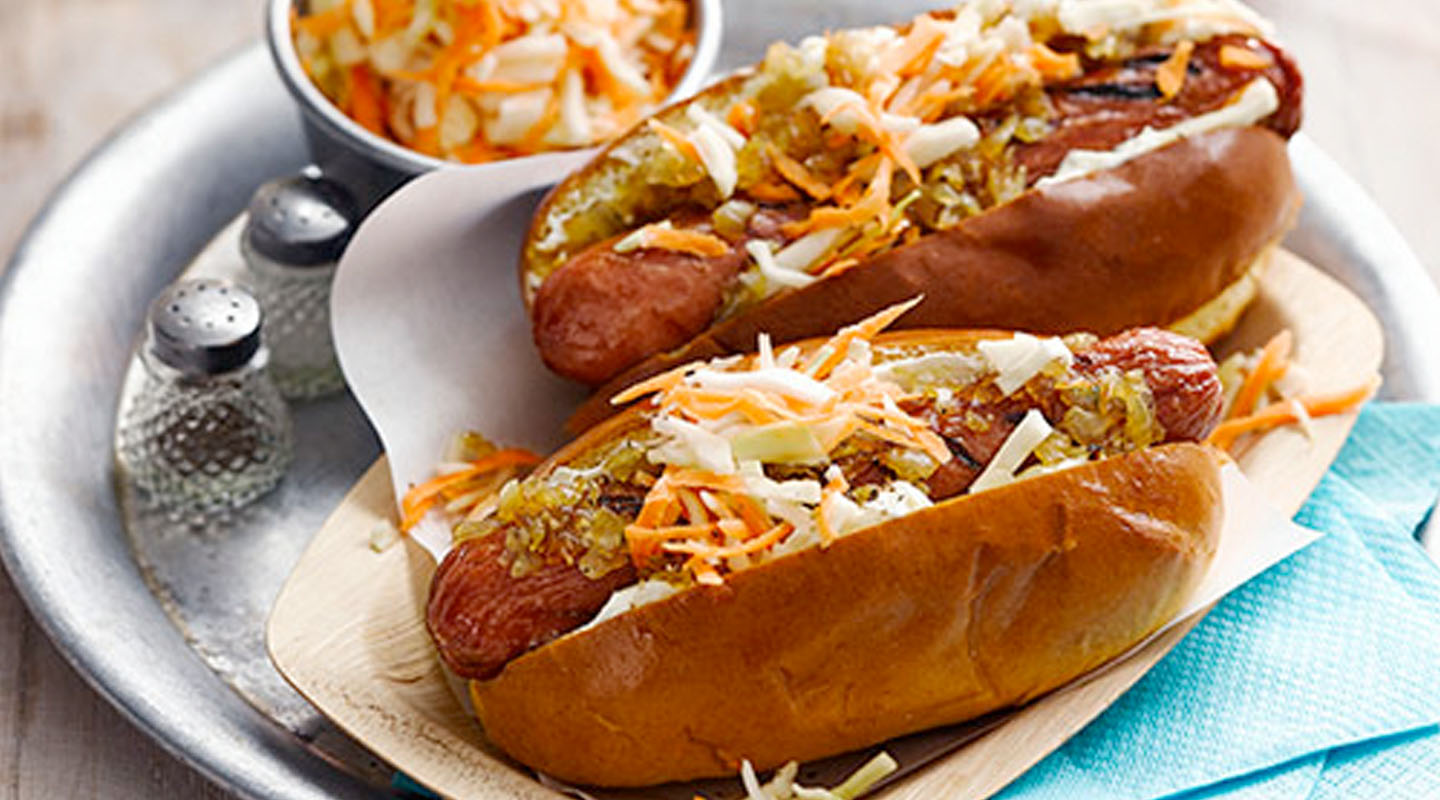 Ingredients
4 good quality hot dogs – all-beef, or Polish sausage preferable
4 hot dog buns
4 tbsp cream cheese
1 tbsp butter
1 medium white onion
½ head of white cabbage
1 medium carrot
1 tsp salt
1 tbsp Sarsons Malt Pickling vinegar
1 tsp mild olive oil
2 tsp caster sugar
Method
Bring a pan of water to the boil. Reduce the heat to a simmer, place the hot dogs into the water and cook for 5 minutes. Remove from the water, place on a plate and keep to one side.
In the meantime, finely chop the onions. Melt the butter in a frying pan and add the onions to the pan. Cook for ten minutes on the heat, stirring occasionally, and cook until caramelised.
Very finely shred the cabbage and grate the carrot and tip into a large bowl. Sprinkle over the salt and mix well. Set to one side.
Heat a separate griddle pan or barbeque. Grill the pre-cooked hot dogs until they are well browned, turning frequently. Split the hot dog buns in half and gently toast them in the griddle pan, split side down for a few seconds.
Drain some of the liquid away from the salted cabbage and pour in the Sarsons malt vinegar, olive oil and sugar. Mix well.
To assemble the dogs, spread the cream cheese onto the inside of the toasted hot dog bun. Add the griddled hot dogs, sprinkle over some of the caramelised onions and top with the quick pickled cabbage salad.