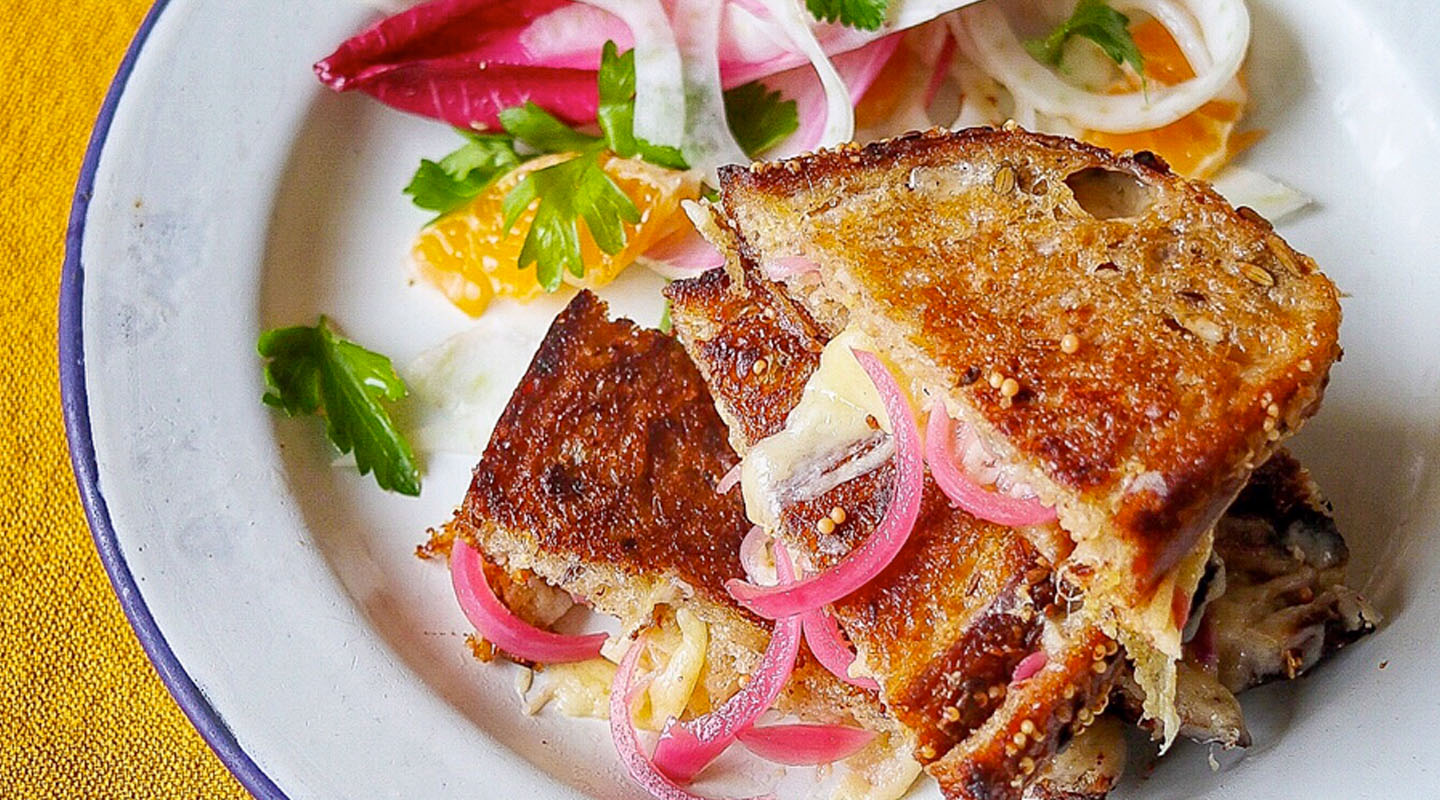 Cheese & Pink Pickled Onion Grilled Cheese Sandwich
Ingredients
For the pink pickled onions
250ml malt vinegar
100ml water
50g sugar
½ tsp sea salt
2 bay leaves
5 black peppercorns
½ tsp of yellow mustard seeds
2 red onions, sliced
For the sandwich
2 slices of sourdough
100g sliced cheese (love a mix of cheddar and Comte)
Knob of butter
2 tsp mayonnaise
A tablespoon of pink pickled onions, drained
For the chicory, fennel and clementine salad
1 head of chicory, broken down
½ head of fennel, finely sliced
A handful of flat-leaf parsley
1 clementine, peeled and sliced into rounds
Olive oil
Method
First, make your pink pickled onions. Place your sliced onions in a bowl. Put the Sarsons malt vinegar, water, sugar, salt, bay leaves, yellow mustard seeds, in a non-reactive pan and bring to the boil over a medium heat, stirring to dissolve the sugar. Once dissolved, remove from the heat and pour over the sliced red onions. Allow to steep for at least 30 minutes.
Spread both sides of your bread slices with mayonnaise and heat a heavy-bottomed frying pan or cast-iron skillet over a low-to-medium heat and melt the butter. Place one of your bread slices down in the butter and lay half of the sliced cheese on top of the slice, followed by the pickled onions. Top with the rest of the cheese and the other slice of bread and then weigh the sandwich down by placing a smaller skillet, frying pan or heavy pot on top of it. Cook for three minutes, until golden and crisp, then turn the sandwich over and cook on the other side of the bread for another few minutes, until the cheese has melted, and the bread is crispy and golden.
Meanwhile, place your chicory, fennel and parsley in a bowl and season with salt and pepper. Dress with a teaspoon of the onion brine and a little olive oil and combine with the clementine slices. Remove the sandwich from the pan, slice it up and garnish with a bit more of the onion pickle. Serve with the salad.