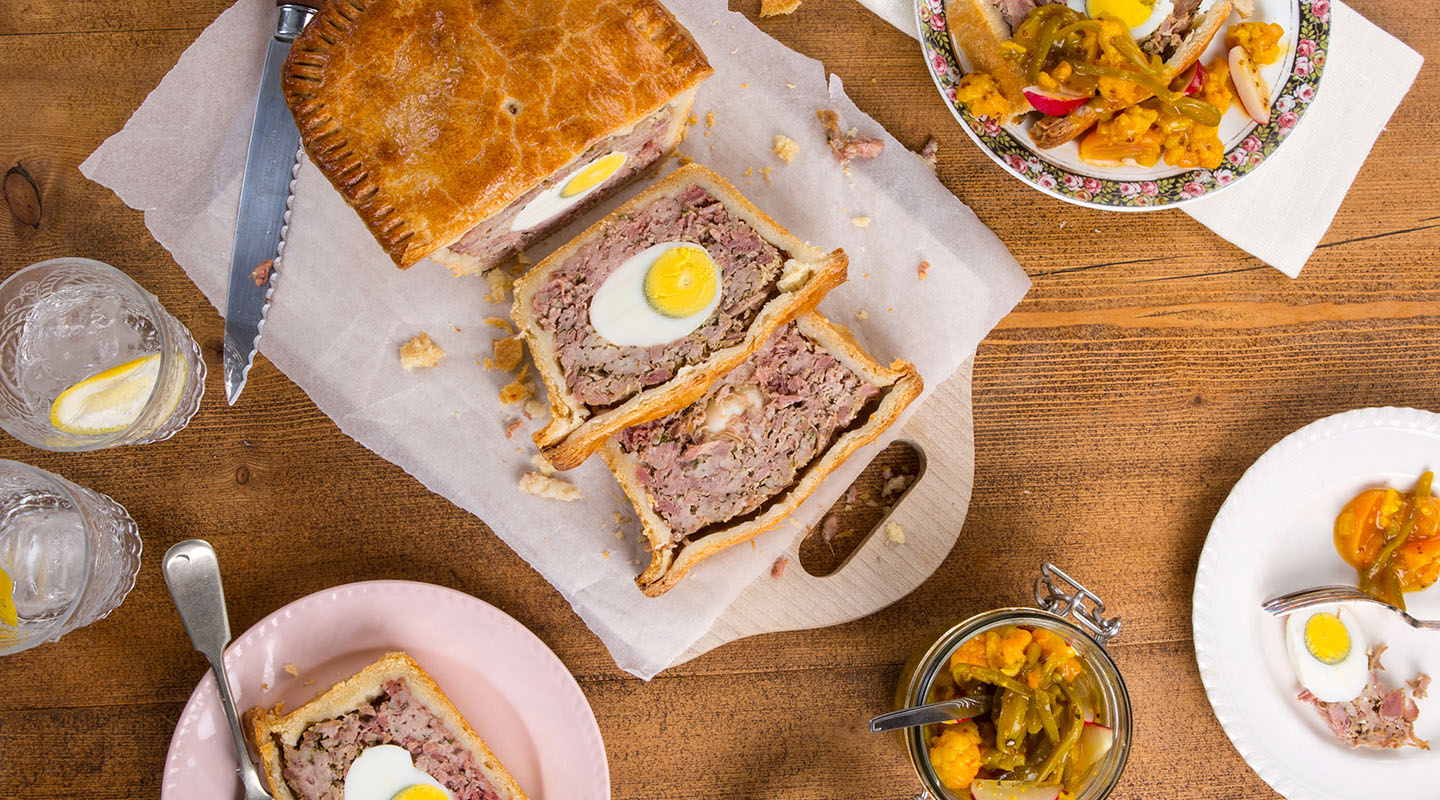 Pork & Egg Pie with Homemade Piccalilli
Ingredients
For the Homemade Piccalilli
2 onions, diced
250g runner beans, sliced into thin strips
250g cauliflower florets
100g radishes, sliced
2tsps English mustard powder
2tsps turmeric powder
250ml Sarson's Malt Vinegar plus 2 additional tbsps
25g corn flour
100g granulated sugar
1tbsp wholegrain mustard
1tbsp sea salt
For the Pork and Egg pie filling
Rapeseed oil, for frying
500g pork mince
500g cooked ham hock, shredded
2 shallots, chopped
2tbsp parsley, finely chopped
1tbsp tarragon, finely chopped
4 hard boiled eggs, shelled
Salt and pepper, to season
For the hot water crust pastry
450g plain flour
100g strong white flour
75g unsalted butter, chilled and cut into cubes
125g Pork lard
1 egg, beaten
Salt, to season
Method
For the Homemade Picalilli
Place the onions into a saucepan and add 125ml of Sarson's Malt Vinegar and bring to the boil. Cover and then cook for 15 minutes, until soft.
Fill a separate saucepan with water and bring to the boil. Add the cauliflower florets and runner beans and cook for 3 minutes. Drain and cool under running cold water and put to one side.
In a bowl, mix together the mustard powder, turmeric, corn flour and 2 tablespoons of Sarson's Malt Vinegar to form a paste.
When the onions are ready, pour in the sugar and the rest (125ml) of the Sarson's Malt Vinegar and bring back to the boil.
Add the cauliflower and runner beans and simmer for 5 minutes. Add the yellow corn flour paste, salt and whole grain mustard and cook for another 5 minutes. Finally add the sliced radish and cook for a further 5 minutes.
Divide the pickle into two sterilised Kilner® Jars, seal and leave to cool. Once cool, keep in a dark cupboard for up to a month.
For the Pork and Egg pie filling
Heat oven to 200C and grease a 1kg loaf tin with some lard.
Make the filling by frying off the shallot in 1 tbsp of oil until the shallots are soft and translucent. Leave to cool.
Combine the shallot with the pork mince, shredded hock and herbs. Do not add the egg at this point. Season with salt and pepper.
For the hot water crust pastry
To make the hot crust pastry, put the flour in a large bowl and rub in the butter cubes with your fingertips.
Heat 200ml of water, along with some salt and lard. Bring just to the boil and then stir into the flour using a wooden spoon.
When the mixture is cool enough to handle (it should feel very warm) knead until smooth. Cut off two thirds of the dough and roll out quickly and line the bottom and sides of a 27cm x 10cm loaf tin.
To assemble the pie
Press half of the meat filling into the pastry-lined tin. Take a thin slice off the top and bottom of each boiled egg (this helps them sit next to each other and makes slicing the pie easier), then place the eggs lengthways down the middle of the pie. Add the remaining meat filling and pat it down.
Brush the overhanging pastry edge with egg yolk. Roll out the remaining pastry to make a lid and place over the pie. Place the lid on top, press down at the edges and trim any excess pastry off. Make three steam holes in the top of the pie and brush with more egg yolk.
Bake for 30 minutes and then reduce the heat to 180C and bake for a further hour. Leave to cool completely in the tin.
To serve, carve the pie up into slices and serve with a dollop of homemade piccalilli.