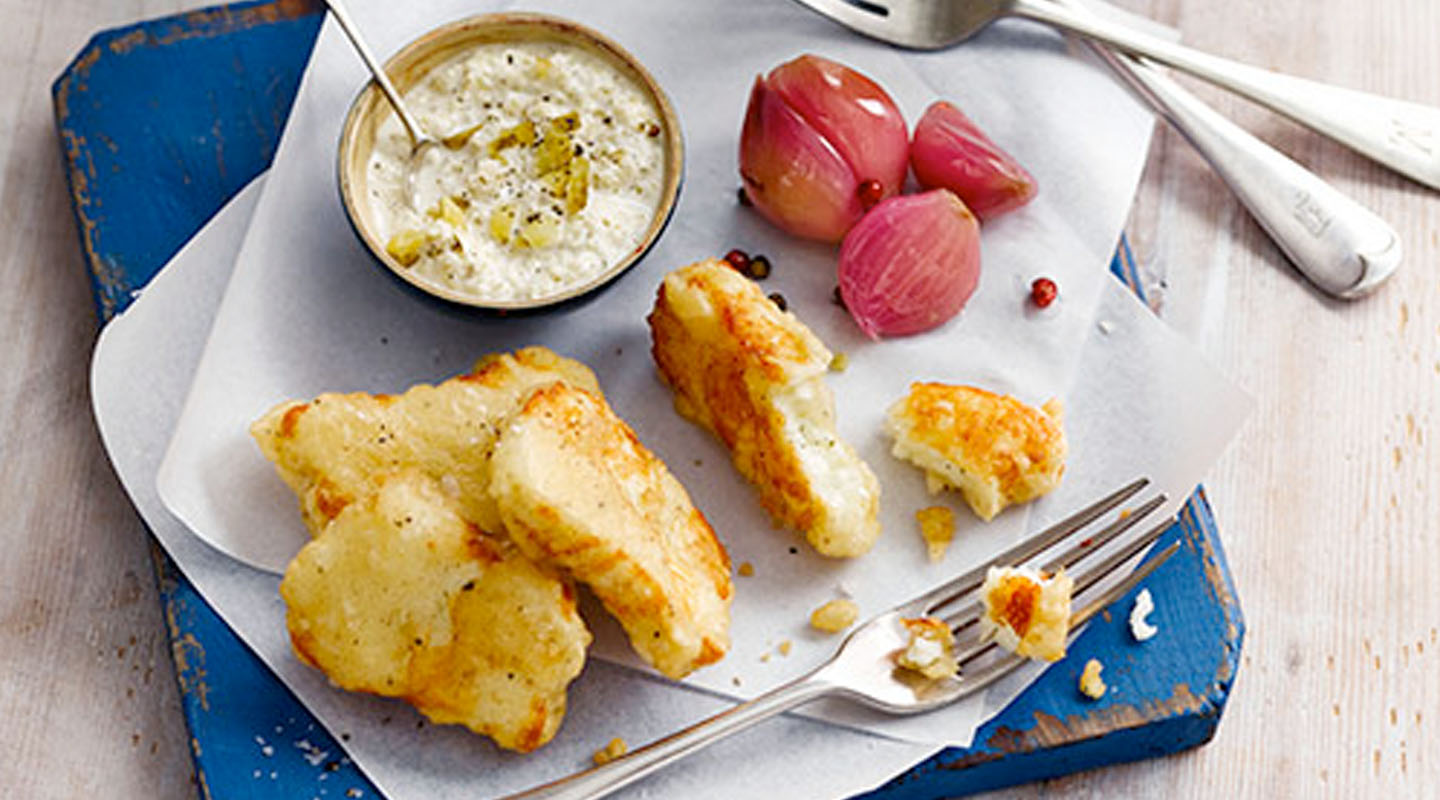 Ingredients
Beer-battered halloumi (Serves 2)
50g (~1/4 cup) plain flour
75ml (~1/3 cup) beer
Salt
Black pepper
Oil for frying
225g halloumi cheese (8 x 1cm slices)
Homemade pickled onions
Makes ~20
300g bitesized onions or shallots (~20 onions)
150ml (~2/3 cup) Sarson's pickling malt vinegar (plus more if needed)
1/2 tsp caster sugar
1/2 tsp salt
1tsp mixed peppercorns
Homemade tartar sauce
Makes ~1 1/2 cups
1/2 large onion
3 large pickled gherkins
3tbsp (heaped) mayonnaise
Salt
Black pepper
Method
Beer-battered halloumi (serves 2)
Add the flour and beer to a large bowl, and season generously. Whisk until smooth.
Heat a couple of centimetres of oil in a deep pan. When it's at the point that it sizzles when you drip a tiny amount of batter into the oil, it's ready to use.
Dip the halloumi slices into the beer batter until thoroughly coated, and carefully drop each piece into the oil. Cook for a few minutes each side, until golden brown. Transfer to a plate lined with kitchen paper for a minute or two to drain off any excess oil, then serve, with more salt and pepper if desired.
Homemade pickled onions
Top and tail the onions, then peel them whole. Blanch them in a pan of boiling water for about 3 minutes, unit they are just beginning to soften slightly, then drain.
In a separate small pan, add the pickling vinegar, caster sugar and salt. Heat very gently for a minute or two, just until the sugar has dissolved - don't allow the mixture to become very hot.
Add the onions to a clean jar, and pour over the vinegar. Add the peppercorns, and if necessary, add more vinegar until the onions are completely covered. Store in the fridge. The pickled onions will be ready to eat a few hours later.
Homemade tartar sauce
Add the onion and gherkins to a food processor, and process until they have reached your desired consistency.
Transfer the mixture to a bowl, and add the mayonnaise and plenty of seasoning. Mix well, and store in the fridge.