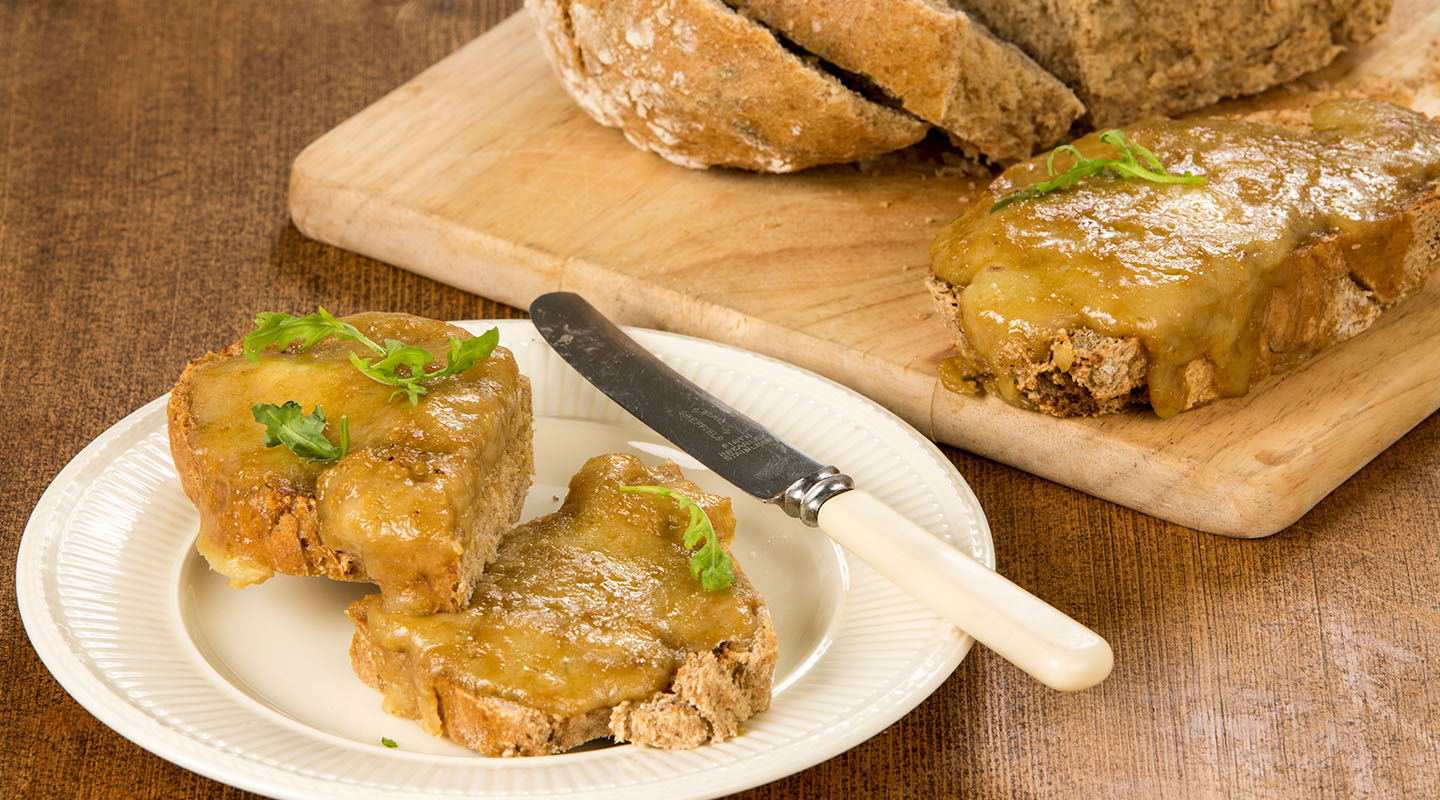 Malt Vinegar Rye Bread with Welsh Rarebit
Ingredients
For the bread
20g dried active yeast
750g strong white flour
250g dark rye flour, plus extra for dusting
20g salt
650ml beer (two 500ml bottles will be needed)
100ml Sarson's Malt Vinegar
For the rarebit
30g butter
30g plain flour
1tbsp English mustard
4tbsp porter beer
200g grated cheddar
Pepper
Method
Preheat the oven to 250C.
To make the bread, make sure that the porter beer is at room temperature and pour into a bowl. Mix in the yeast, until it has dissolved.
Add the rye flour, strong white flour and Sarson's Malt Vinegar and mix to make a thick batter. Cover with a tea towel and leave to rise in a warm place for 2 hours. Uncover and add the remaining flour and salt.
Knead on a lightly floured surface, first in the bowl and then transfer to your work surface. Knead until the dough is smooth and supple and no longer sticks to your hands.
When ready, form into a ball and place back into the bowl, lightly dust with flour and cover with a tea-towel. Leave to rise for 45 minutes.
Turn the dough out onto a lightly floured surface (it should have grown in size) and shape it into a smaller ball. Place back in the bowl and let the dough rise for another 45 minutes.
Remove the dough from the bowl and form into even shaped loaves and place on baking sheets. Dust with flour and cover them with a tea-towel. Leave to prove for another hour and a half, or until they have doubled in size.
Mist the inside of the scalding hot oven with a few squirts from a water spray gun before putting your loaves in.
Make two deep slashes in the bread with a serrated knife. Bake the loaves for 5 minutes and then reduce the heat to 220C and bake for a further 25 minutes, until they are rich and brown in colour. When done, they should sound hollow when tapped underneath.
Transfer to a wire cooling rack and leave to cool before serving.
For the rarebit
Heat the grill to 200C and slice your bread into four thick slices.
Melt the butter in a saucepan until it starts to bubble.
Add the flour and stir in quickly, for about a minute.
Add the mustard, porter beer, grated cheese and a good amount of cracked black pepper and stir through to melt and incorporate all the ingredients, until it forms into a spreadable paste.
Give your bread a quick toasting on either side and then spread the rarebit onto one side before blasting under the grill again, until it sizzles and browns just slightly.