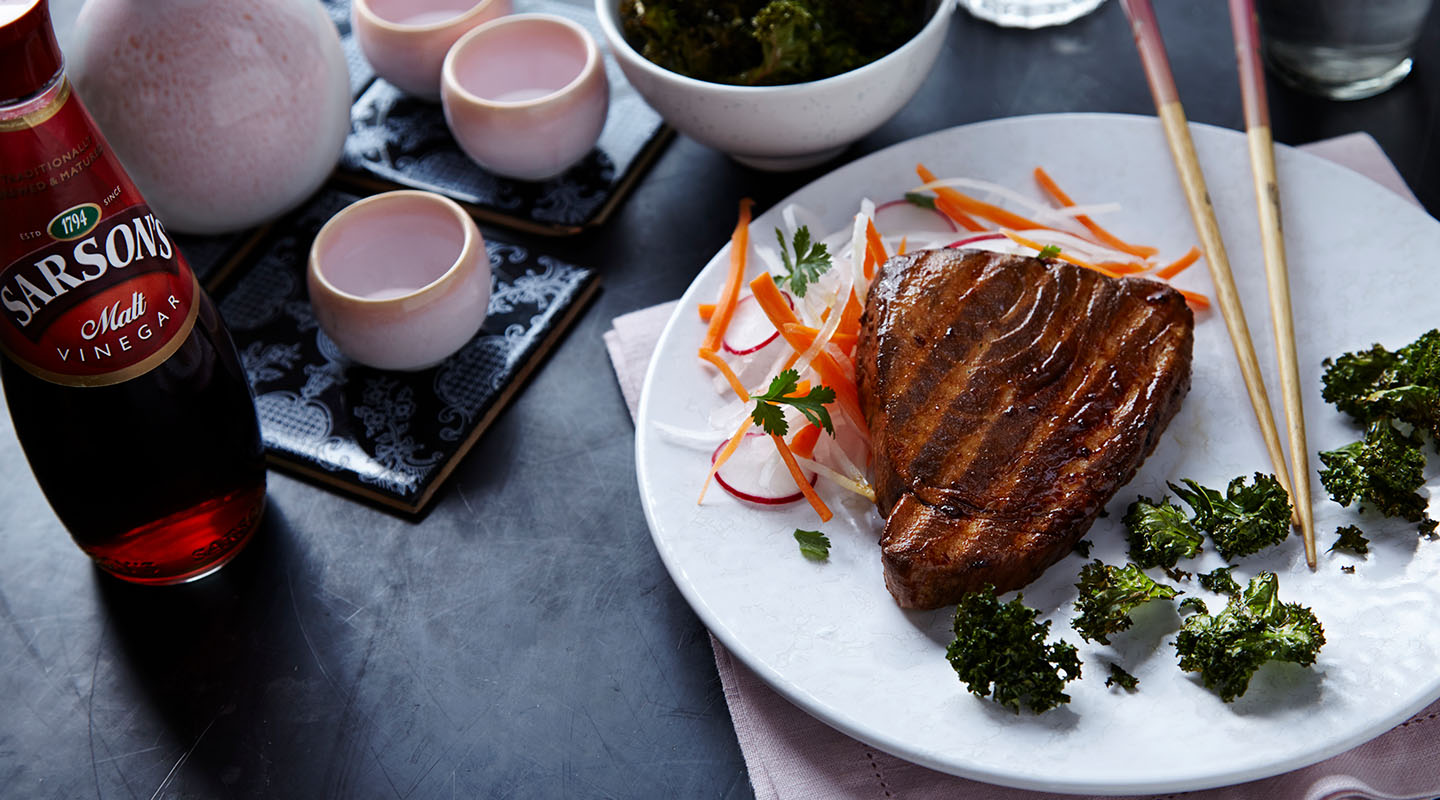 Ingredients
60ml mirin wine or sake
60ml dark soy sauce
3 tbsp runny honey
2 tbsp toasted sesame oil
4 garlic cloves, crushed
5cm piece fresh root ginger, peeled and grated
200g kale leaves
2 tbsp olive oil
2 carrots, shredded
½ mooli (white radish), shredded (optional)
6 red radishes, sliced
7g fresh coriander, roughly chopped
Zest and juice of 1 lime
2 x 150g tuna steaks
Sea salt
Sarson's Malt Vinegar, to dress
Method
To make the teriyaki sauce, combine together the wine, soy, honey, half the sesame oil, garlic and ginger in a saucepan, then bring to the boil. Simmer for 5-8 mins, until reduced by half and thick. Set aside.
Meanwhile, preheat the oven to 180C/gas 4. Remove the stems from the kale leaves and tear into small mouth-sized pieces. Dry out completely with kitchen paper, the place on an oiled oven tray. Brush the leaves entirely with oil. Cook for 10 mins, then turn over and cook for a further 10 mins, until crispy and slightly browned. Leave to rest for 5 mins.
In a bowl, combine the carrots, mooli, radishes and coriander, and dress with the remaining sesame seed oil and the lime juice and zest. Divide between two serving plates.
Reheat the teriyaki sauce for 2 mins, until it loosens up. Heat a griddle pan or frying pan with a little oil in it, then cook the tuna steaks for 3-4 mins on each side, until cooked to your liking. Dip each tuna steak into the teriyaki sauce, then return to the pan and cook for 1 min on each side. Place on top of the salads and serve with the kale chips, dressed with Sarson's vinegar.