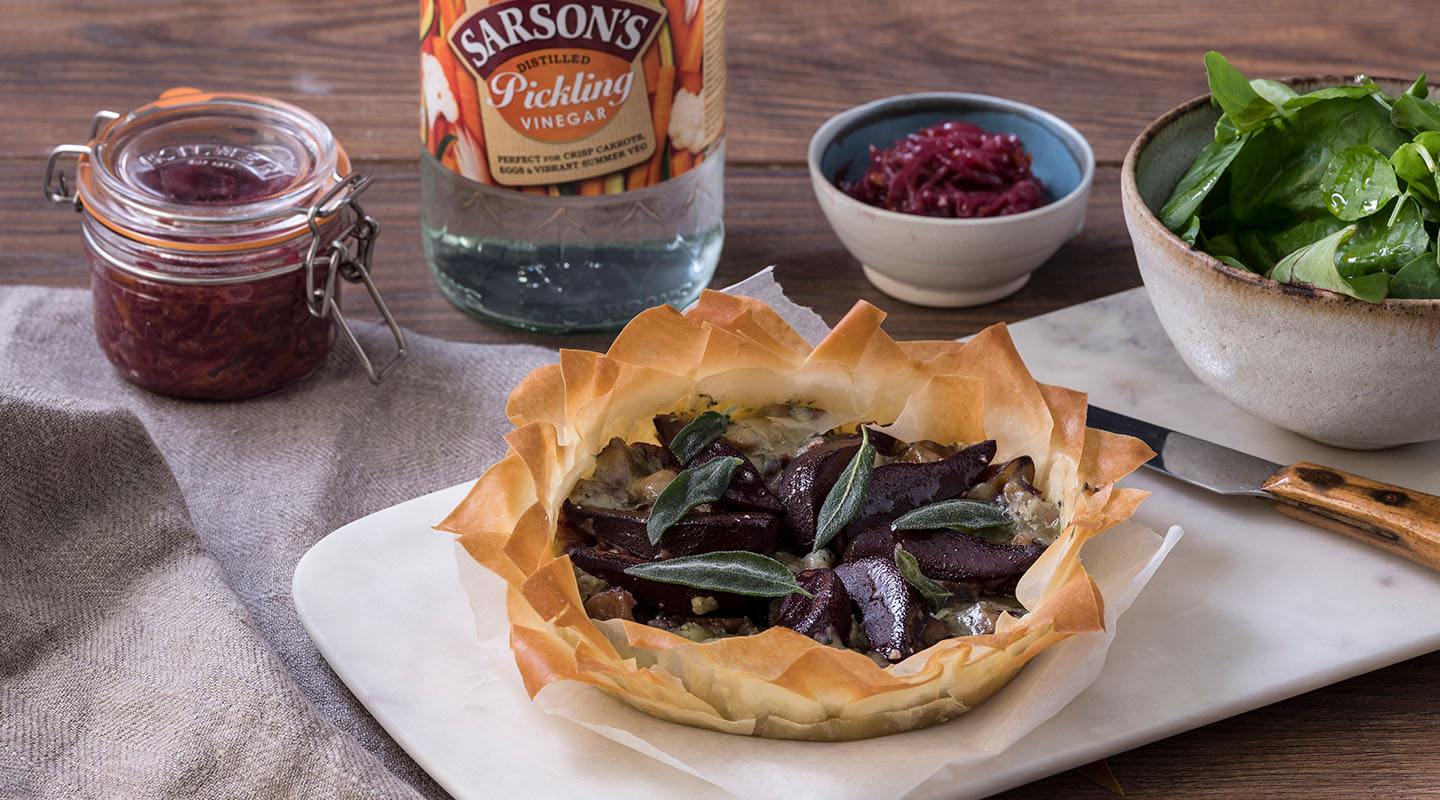 Ingredients
Pickled Pears
2 small pears, (not too ripe)
300ml of red wine
1 sprig of rosemary
1 cinnamon stick
1 garlic clove
3 tbsp of sugar
80ml of distilled pickling vinegar
Red Onion and Orange Chutney
400g of red onion, sliced
100g of soft brown sugar
1 cinnamon stick
1/2 orange, zest and juice
Filo Tart
1 onion, finely diced
2 garlic cloves, finely chopped
1 dash of olive oil
1 tsp thyme leaves
1 handful of sage leaves, cut into chiffonade
200g of chestnuts, halved
270g of filo pastry, (one packet)
40g of butter, melted
80g of Stilton
Crispy Sage
12 sage leaves
Vegetable oil
Method
Begin by pickling the pears. Add the wine to a pan with the rosemary, cinnamon stick, garlic and sugar and reduce to 100ml. Take off the heat and add the distilled pickling vinegar.
Peel, core and quarter the pears then cut each quarter into 3 slices. Place the pears in the pickling liquor and simmer over a low heat for 10 minutes. Drain the pears and reserve the liquor.
To make the onion relish, sweat down the onions until soft. Pour over the reserved pickling liquor and add the soft brown sugar, cinnamon, orange juice and zest. Simmer over a low heat until reduced to a sticky relish consistency.
To make the tart filling, sauté the onion and garlic in a splash of olive oil with the thyme leaves and chopped sage until the onions are soft and translucent. Add the halved chestnuts to warm through.
Preheat the oven to 180°C/gas mark 4.
To assemble the tarts, cut each pastry sheet into squares the same size as your dishes, about 8 layers per tart. Brush the dishes with melted butter and place a square of pastry inside. Brush the pastry with butter then place the second sheet of pastry on top with the corners at different angles from the first sheet. Repeat the process with all the pastry, making sure to rotate the angle each time to get a nice even crust.
Spoon half the chestnut mixture into each tart case, top with the pear pieces, and crumble the Stilton over the top. Place in the oven for 15–20 minutes.
Meanwhile, deep-fry the sage leaves in hot oil (at approximately 180°C) until crisp and aromatic. Drain on kitchen paper and set aside.
Top the tarts with crispy sage and serve with the onion relish and mixed baby leaves.