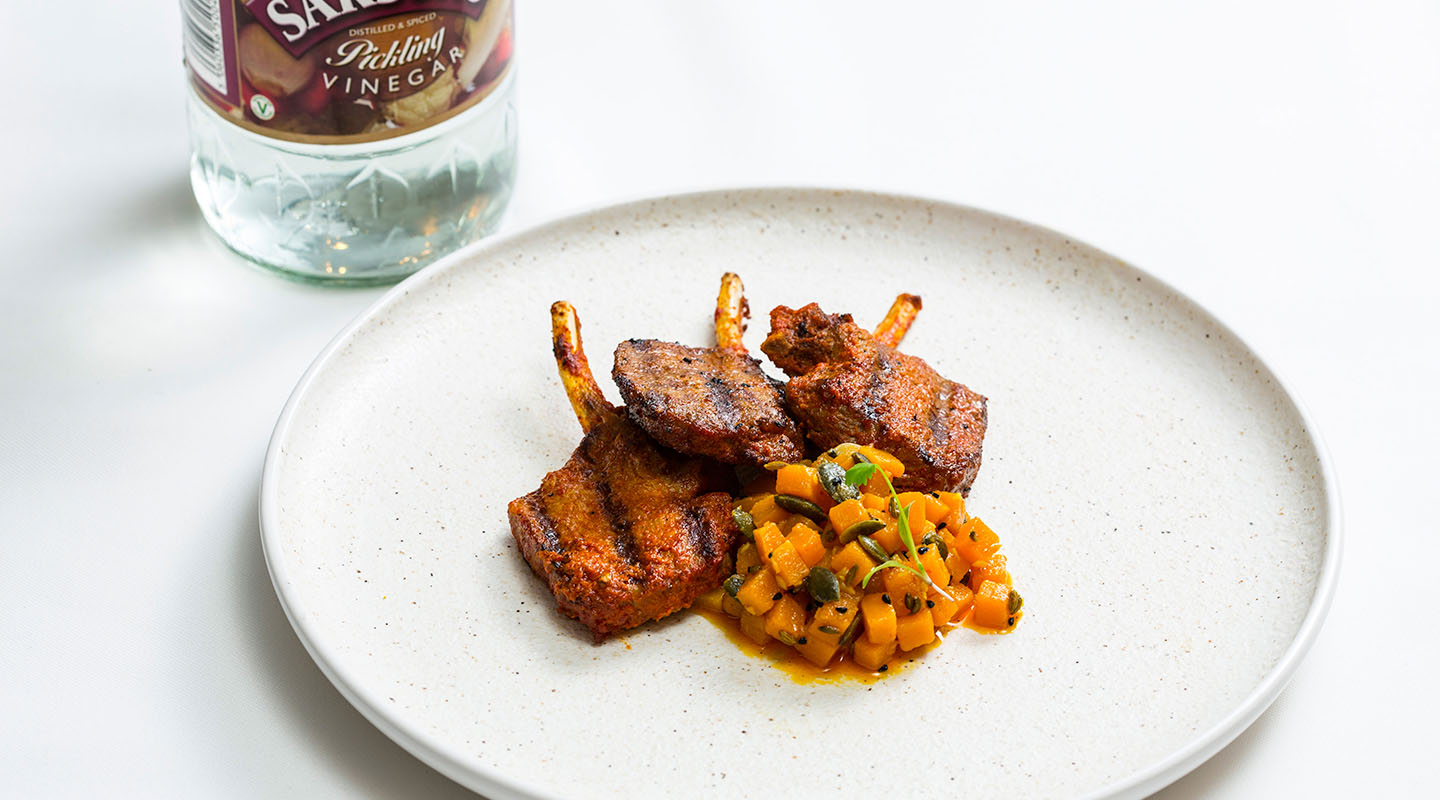 Ingredients
Marinade
1 tsp Kashmiri chilli powder
1 tsp peppercorns, crushed
1 tbsp of olive oil
Salt
1/2 tbsp of ginger and garlic paste
1 tbsp of lime juice
1 tsp dried mint powder
Pickled Pumpkin
100g of pumpkin, diced
4 tbsp of pumpkin seeds
4 tbsp of distilled pickling vinegar
1 tsp fennel seeds
1 tsp mustard seeds
1 tsp nigella seeds
2 tsp degi mirch powder
1 tsp ginger, chopped
2 tbsp of oil
Salt
Method
To begin, pickle the pumpkin. Soak the diced pumpkin and pumpkin seeds in distilled pickling vinegar overnight.
When ready to serve, heat the oil in a pan and add the fennel and mustard seeds. Once they start to crackle, add the pumpkin and pumpkin seeds and cook, tossing regularly, for a minute or so.
Add the degi mirch powder, ginger and nigella seeds and cook for a couple of minutes. Check the seasoning and remove from the heat.
To begin, prepare the lamb rack by cutting into individual chops. Clean up the bones using a small, sharp knife.
Mix together all of the marinade ingredients and add to a bowl with the lamb chops, making sure the meat is completely covered and refrigerate for 6 hours to marinate.
Grill the lamb under a very hot grill, in a chargrill pan or on a barbecue for 1 minute on each side.
Sprinkle with the dried mint and serve with the pickled pumpkin and a side of rice.